How open are consumers to share data with their insurer?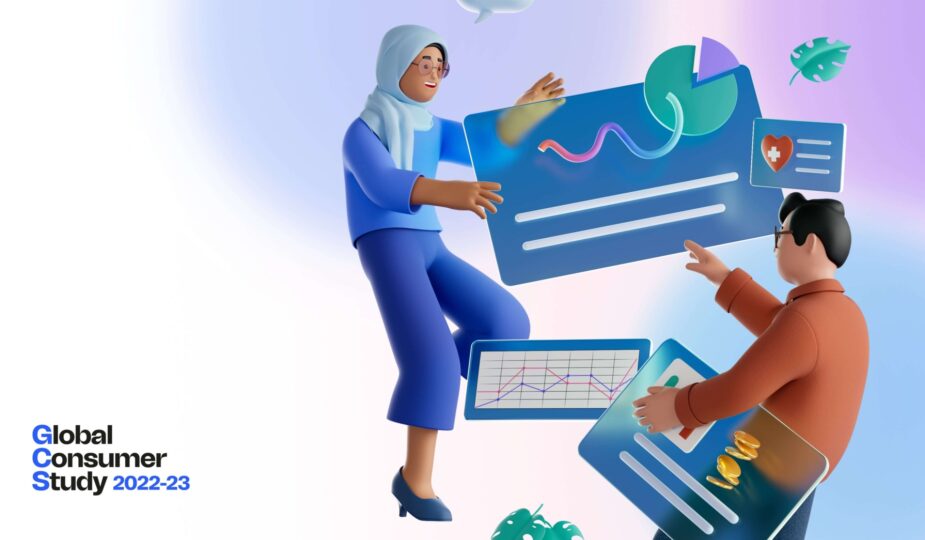 In conjunction with Data Privacy Day, we look at how insurers can use data in a way that benefit consumers whilst respecting their fundamental right to privacy. Interestingly, 70.6% of consumers are open to share health check-up data with their insurers in exchange for insights on their risk of contracting certain illnesses. In this article, we look at data as a tool of individual empowerment through the knowledge it can bring to both policyholders and insurers.

67.7% are comfortable sharing data with insurers
A connected world means more data – offering insurers and their customers the potential for greater personalisation of products and services. Consumers can access cheaper motor insurance by sharing their driving data, and, in the health insurance market, sharing activity data can deliver rewards and incentives for the more active policyholders.  
The benefits aren't limited to the customer. A consumer's driving data can be used to help them understand how they drive and enable them to take steps to lower the risk of accident. This benefits the insurer through fewer claims and also results in improvements in road safety. Similarly, providing consumers with the incentive to lead healthier lives will improve insurers' claims while also reducing the strain on healthcare services. 
Having more data gives more possibilities but also creates more responsibilities. Insurers need to build trust and be mindful of consumers' concerns around privacy and how their information is used when building their data-driven propositions.

Happy to share  
This year, we asked respondents to state how comfortable they are in sharing the different categories of personal data that insurers typically use to assess risk and grant insurance cover. Across all categories, more than two thirds (67.7%) of respondents are either very comfortable or comfortable to share their data (Figure 20).

Two-thirds of respondents were comfortable with sharing telematics and wearable data
The level of comfort was not hugely different across all the categories. Respondents had the least comfort in sharing financial information, with 40.0% expressing some degree of discomfort. Interestingly, around two-thirds of respondents were comfortable with sharing telematics and wearable data, which goes beyond the data normally required for underwriting purposes.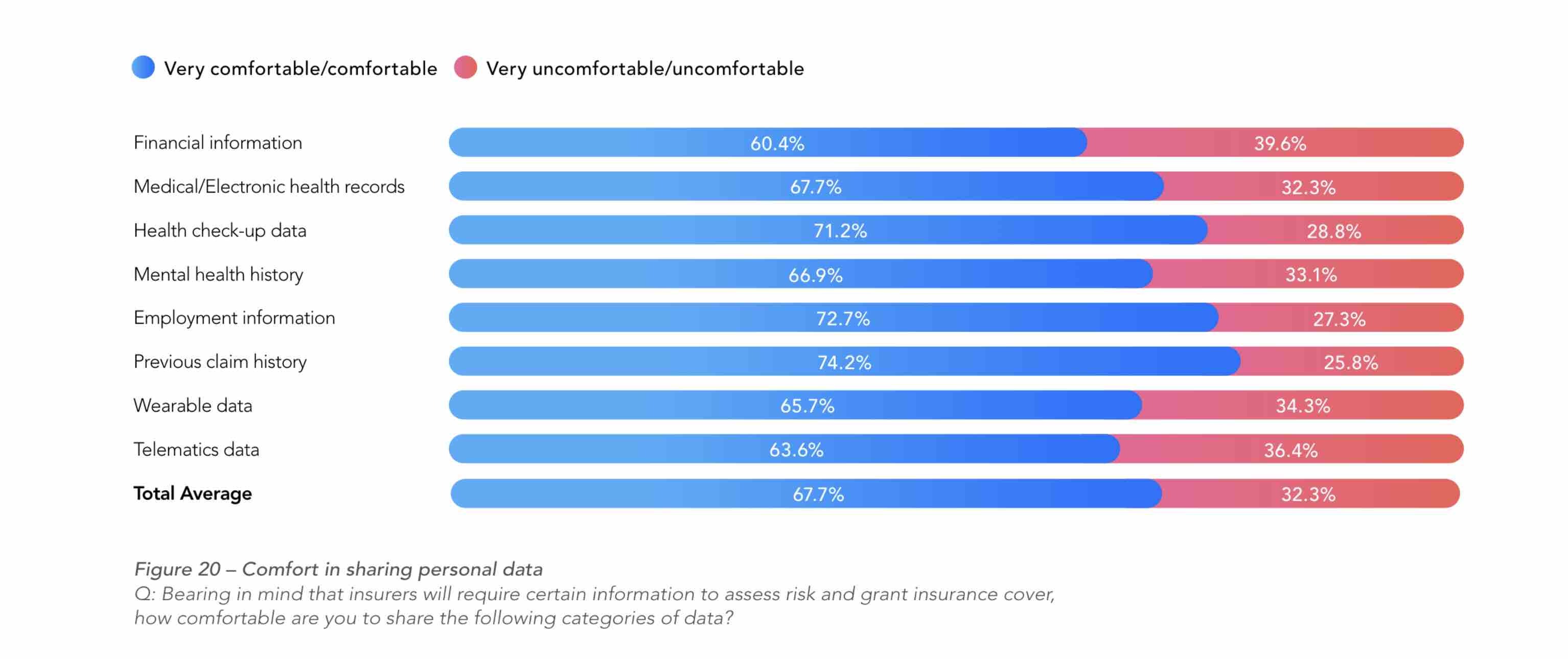 Across all the different categories, Gen Z is the generation with the highest percentage of respondents saying they were very comfortable to share their data. This likely reflects the fact that people of this generation are quite embedded in digital consumption (and sharing data) from social media to online shopping. Younger people may also have little claim or medical history to share.
There are also marked differences by market. The French, the Germans and the Japanese were consistently and significantly more reluctant than average to share information across all categories of data. At the other end of the spectrum, the Chinese, the Malaysians and the Mexicans professed to be the most relaxed about sharing personal information.
Incentives to share 
Our survey points to the fact that two thirds of consumers are comfortable sharing their personal information. As more data becomes available, insurers and consumers alike will need to understand its value better. Providing incentives may be key to persuading customers to share additional data (Figure 21).

70.6% are open to share health check-up data with insurers to get insights on their risk of disease
We asked our survey participants how appealing certain rewards would be in sharing data, such as that from telematics or wearables. Responses show that the most effective incentive is a discount on the insurance premium.

Data can be good for your health
The L&H sector is well placed to provide its customers with useful feedback on the health information that they receive to underwrite risk. We asked respondents whether they would be open to their insurer using data from their health check-ups to provide them with insights into their risk of contracting a range of illnesses such as cancer, diabetes or a heart attack. 70.6% of those surveyed responded positively (Figure 22). 
The markets most receptive to these insights are Mexico (91.8%), Indonesia (89.0%) and India (88.0%). Those least accepting of the proposition are France (48.5%), Germany (51.8%) and China (53.9%).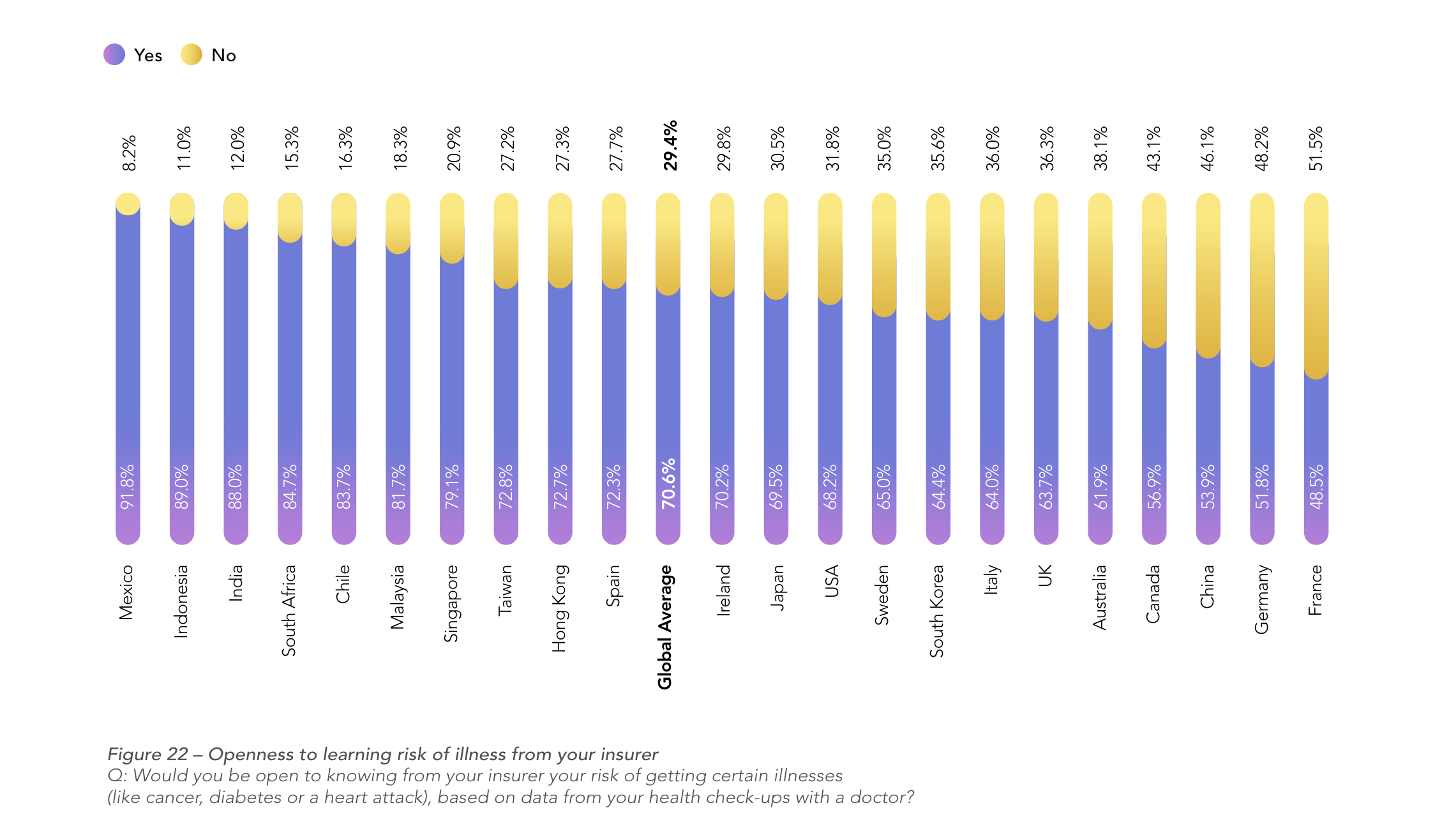 Amongst those who responded positively, an overwhelming majority, (95.7%), said that they would be willing to follow advice on how to reduce the risk of disease. With such a high proportion of people comfortable taking health advice from their insurer, it suggests that they already enjoy a high level of trust. As more and more data become available, building on this foundation of trust will enable some engaging product propositions to be developed.