Do you want insurance with that? The case for embedded insurance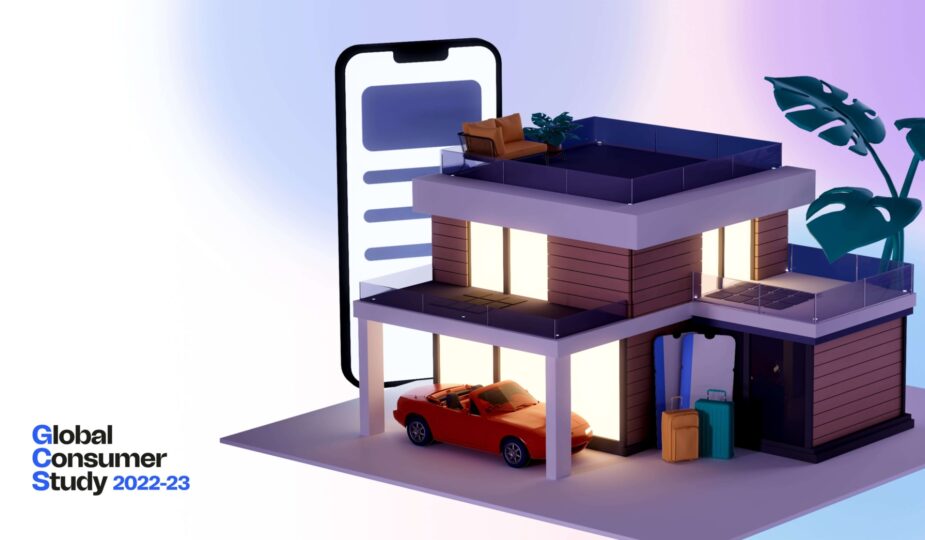 With Christmas and the holiday season just around the corner, people are shopping for gifts or making plans to travel. Many of these purchases might involve adding on insurance cover in the process. The embedded insurance model is forecasted to "grow more than six times by 2030 – to $722BN in Gross Written Premium", making it an area of vast potential that deserves attention. [2]
71% of respondents are aware that insurance can be purchased with other goods/services
Those familiar with the insurance industry would have often heard the adage "insurance is not bought, it's sold." This sentiment is particularly apt in the case of embedded insurance. "Embedded insurance is the real-time bundling and sale of insurance coverage or protection while a consumer is purchasing a product or service, bringing the coverage directly to the consumer at the point of sale." [1] The buyer is often not looking for cover, nor even aware that they need it until they are prompted by a sales agent.
Embedded insurance has traditionally been associated with the purchase of white goods e.g. washing machines and refrigerators, and household electronics e.g. televisions and laptops, in the form of extended warranties or breakdown cover. Nowadays, embedded insurance's reach has extended to a variety of daily scenarios; when booking flights with an airline, purchasing concert tickets, or when renting an Airbnb accommodation.
For insurers, this approach is a low-cost distribution channel to reach a wider audience. Partnered retailers gain an additional revenue stream, and consumers get quick and simple access to cover. Win-Win-Win, right? Well, consumers don't seem to think so. Although 71% of our survey's respondents were aware that insurance could be bundled within the purchase of a good or service, 58.2% refused this embedded type of product when offered, and 14.2% stated they had never been offered this type of cover (Figure 40). So, in a seemingly symbiotic relationship, most consumers do not value this type of cover and do not reap the protection benefits.

Conscious of this, players in the industry have taken steps to restructure this business model to the point where embedded insurance is forecasted to "grow more than six times by 2030 – to $722BN in Gross Written Premium, with most expansion in North America and China". [2] This is possible through embracing data and new technologies.
Technology energises embedded insurance
To industry aficionados, the concept of embedded insurance is not new. One might argue the embedded insurance model represents a wholesale business, where insurers have little to no interaction with the end consumer, merely getting a mention in the small print of a policy contract. Insurers do not own the all-important policyholder data, but are dependent on the cross-selling abilities of a retail agent. Not to mention the long conversations surrounding financial terms and legal compliance with often large, powerful distributors to get products out in front of shoppers. However, as how technology has changed every aspect of our lives, embedded insurance has undergone a transformational change too. The catalyst has been embedded insurance gaining widespread popularity amongst investors and global InsurTech firms in recent months.

Almost half (49.4%) of our respondents refused cover did so because they thought it was too expensive
Following the new heights of mobile e-commerce and global online retail, insurers and reinsurers have made strategic investments in and are partnering with InsurTech firms to "experiment with new insurance offerings, distribution models, and technological advancements." [3]
Examples include Sompo Holdings Asia investing US$ 50 million in Cover Genius in 2021, a US InsurTech firm and embedded insurance company. Cover Genius partners with the likes of Amazon, Shopee, Booking Holdings to offer protection to their customers. Sompo uses Cover Genius's client network to embed its insurance products and enhance distribution channels, whilst Cover Genius benefits from Sompo Holdings' support to expand its global insurance distribution platform. In February of this year, US insurer Travelers acquired Trōv, a widely respected InsurTech firm credited with some of the latest innovations in the industry such as on-demand insurance, claims-chat, micro-duration policies, and all-digital user experiences for an undisclosed amount.
Such developments have meant that, powered by the likes of APIs, SaaS and AI developed by industry start-ups, any third-party retailer or distributor can incorporate innovative and relevant insurance products into its own customer purchase journey quickly and at little cost. This is seen with online businesses such as Amazon, Airbnb, Uber and Skyscanner.
Not needing it was cited by 26.0% of respondents when refusing cover
Traditional retail operators are also getting involved. British retailer John Lewis launched a new flexible home insurance product offering in partnership with Munich Re-backed InsurTech Digital Partners. Austrian furniture retailer Kika launched a 100% digital customisable extended warranty insurance at the point of sale with InsurTech player Bsurance. Clearly, the embedded insurance market has been supercharged to a new level.
Make embedded insurance relevant and good value to consumers
What must not be lost in this transformation is the view of the consumer. Almost half (49.4%) of our respondents who refused cover did so because they thought it was too expensive. Not needing it was the second most common answer at 26.0%, followed by 17.4% saying they preferred to buy cover from their insurer directly. The remaining 7.2% say they'd had a previous bad experience (Figure 41). Evidently, consumers do not value the embedded cover at the prices quoted to them. And why would they? To many, such products can feel unnecessary, inflexible, with intangible and distant benefits. Furthermore, with the growth of online aggregators, consumers are savvy enough to shop around on their own for cover.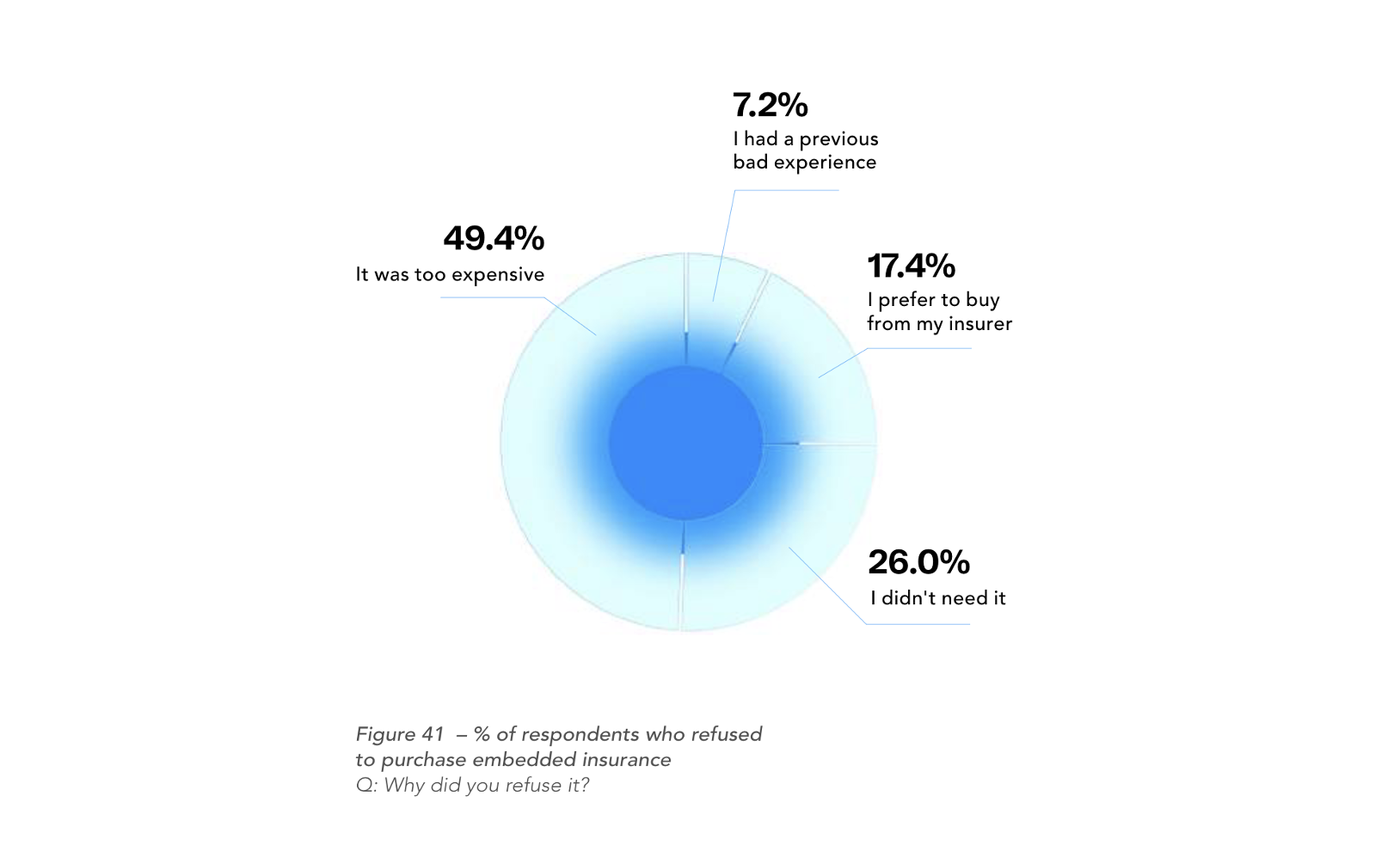 This can be explained by the fact that too often insurers have been comfortable selling standardised products at predetermined rates, managed on sluggish, outdated legacy systems. They lacked the rich data which allows them to understand an individual's risk and to offer a personalised, affordable product in real time at an affordable level at the point of sale.
We are seeing insurers leaving this attitude behind. With the significant amounts of data collected during online transactions, insurers are now able to pinpoint differences between any two customers. Insurers are leveraging technology and data effectively to offer relevant products, at a time when a consumer is most likely to purchase, at a price tailored to their specific needs. Purchase processes are becoming frictionless, completed with a few clicks or taps. Embedding it into the transaction removes the barriers to purchase and enables insurers to bring inclusive and accessible products to underserved regions. This approach improves the value proposition in the eyes of the consumer.
Download the Global Consumer Study 2022-23 now
References
Hurley, J., 2022. Embedded insurance: Definition, examples, benefits. [online] The Future of Customer Engagement and Experience. Available at: [Accessed 1 Sept 2022].
Torrance, S., 2022. Embedded Insurance: a USD 3 trillion market opportunity, that could also help close the protection gap. [online] Linkedin.com. Available at: <https://www.linkedin.com/pulse... ; [Accessed 1 Sept 2022].
2022. Global Embedded Insurance Business and Investment Opportunities – Q1 2022 Update. [online] Research and Markets. Available at: [Accessed 1 Sept 2022].