Do you want insurance with that? The case for embedded insurance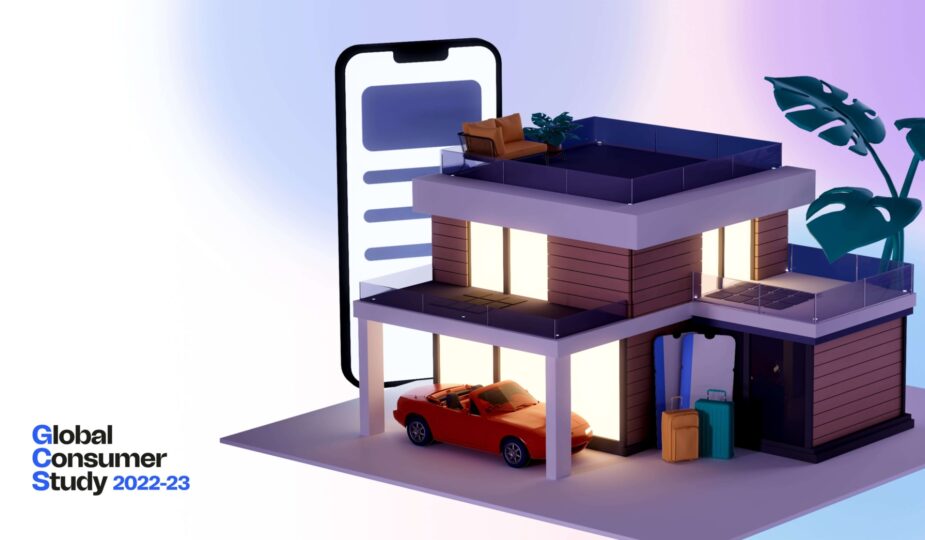 With Christmas and the holiday season just around the corner, people are shopping for gifts or making plans to travel. Many of these purchases might involve adding on insurance cover in the process. The embedded insurance model is forecasted to "grow more than six times by 2030 – to $722BN in Gross Written Premium", making it an area of vast potential that deserves attention. [2]
71% of respondents are aware that insurance can be purchased with other goods/services
Those familiar with the insurance industry would have often heard the adage "insurance is not bought, it's sold." This sentiment is particularly apt in the case of embedded insurance. "Embedded insurance is the real-time bundling and sale of insurance coverage or protection while a consumer is purchasing a product or service, bringing the coverage directly to the consumer at the point of sale." [1] The buyer is often not looking for cover, nor even aware that they need it until they are prompted by a sales agent.
Embedded insurance has traditionally been associated with the purchase of white goods e.g. washing machines and refrigerators, and household electronics e.g. televisions and laptops, in the form of extended warranties or breakdown cover. Nowadays, embedded insurance's reach has extended to a variety of daily scenarios; when booking flights with an airline, purchasing concert tickets, or when renting an Airbnb accommodation.
For insurers, this approach is a low-cost distribution channel to reach a wider audience. Partnered retailers gain an additional revenue stream, and consumers get quick and simple access to cover. Win-Win-Win, right? Well, consumers don't seem to think so. Although 71% of our survey's respondents were aware that insurance could be bundled within the purchase of a good or service, 58.2% refused this embedded type of product when offered, and 14.2% stated they had never been offered this type of cover (Figure 40). So, in a seemingly symbiotic relationship, most consumers do not value this type of cover and do not reap the protection benefits.

Conscious of this, players in the industry have taken steps to restructure this business model to the point where embedded insurance is forecasted to "grow more than six times by 2030 – to $722BN in Gross Written Premium, with most expansion in North America and China". [2] This is possible through embracing data and new technologies.
Technology energises embedded insurance
To industry aficionados, the concept of embedded insurance is not new. One might argue the embedded insurance model represents a wholesale business, where insurers have little to no interaction with the end consumer, merely getting a mention in the small print of a policy contract. Insurers do not own the all-important policyholder data, but are dependent on the cross-selling abilities of a retail agent. Not to mention the long conversations surrounding financial terms and legal compliance with often large, powerful distributors to get products out in front of shoppers. However, as how technology has changed every aspect of our lives, embedded insurance has undergone a transformational change too. The catalyst has been embedded insurance gaining widespread popularity amongst investors and global InsurTech firms in recent months.

Almost half (49.4%) of our respondents refused cover did so because they thought it was too expensive
Tras los nuevos máximos del comercio electrónico móvil y el comercio minorista en línea, las aseguradoras y reaseguradoras han hecho inversiones estratégicas en empresas de tecnología aplicada al sector de los seguros y colaboran con ellas para «experimentar con nuevas ofertas de seguros, modelos de distribución y avances tecnológicos». [3]
Un ejemplo es la inversión en 2021 de 50 millones de dólares estadounidenses de Sompo Holdings Asia en Cover Genius, una empresa de tecnoseguros estadounidense y de seguros vinculados. Cover Genius colabora con Amazon, Shopee y Booking Holdings para ofrecer protección a sus clientes. Sompo utiliza la red de clientes de Cover Genius para integrar sus seguros y mejorar los canales de distribución, mientras que Cover Genius se beneficia del soporte de Sompo Holdings para ampliar su plataforma de distribución de seguros mundiales. En febrero de este año, la aseguradora estadounidense Travelers adquirió Trōv, una empresa de tecnología aplicada al sector muy respetada a la que se le atribuyen algunas de las últimas innovaciones del sector, como los seguros a la carta, chat para siniestros, pólizas con una duración mínima y una experiencia del usuario completamente digital por una cantidad no revelada.

Estas innovaciones han supuesto que, impulsado por las API, el SaaS y la IA desarrollados por las empresas emergentes del sector, cualquier comercio minorista o distribuidor terceros puedan incorporar seguros innovadores y de interés en el proceso de compra de sus clientes con rapidez y a bajo coste. Esto se observa con negocios en línea como Amazon, Airbnb, Uber y Skyscanner. 
Not needing it was cited by 26.0% of respondents when refusing cover
Los operadores minoristas tradicionales también participan. El minorista británico John Lewis lanzó un nuevo seguro del hogar flexible que ofrece en colaboración con la empresa de tecnoseguros Digital Partners de Munich Re. El minorista de mobiliario austríaco Kika lanzó un seguro 100 % digital de garantía ampliada personalizable en el punto de venta con la empresa de tecnología aplicada al sector de los seguros, Bsurance. Sin duda, el mercado de los seguros vinculados se ha reinventado a un nuevo nivel.

Crear seguros vinculados que sean interesantes y económicos para los consumidores
Lo que no debe perderse en esta transformación es la opinión del consumidor. Prácticamente la mitad (49,4 %) de los encuestados que rechazaron la cobertura, lo hicieron porque pensaron que era demasiado cara. No necesitarla fue la segunda respuesta más frecuente, con un 26%, seguido de un 17,4 % que afirmaba que prefería contratar la cobertura directamente a su aseguradora. El 7,2 % restante declaró haber tenido una mala experiencia anterior (Figura 41). Evidentemente, los consumidores no valoran la cobertura incluida con los precios presupuestados. ¿Por qué iban a hacerlo? Para muchos, estos productos pueden parecer innecesarios, inflexibles, con beneficios intangibles y lejanos. Además, con el crecimiento de los agregadores en línea, los consumidores son lo suficientemente expertos para contratar por sí solos la cobertura.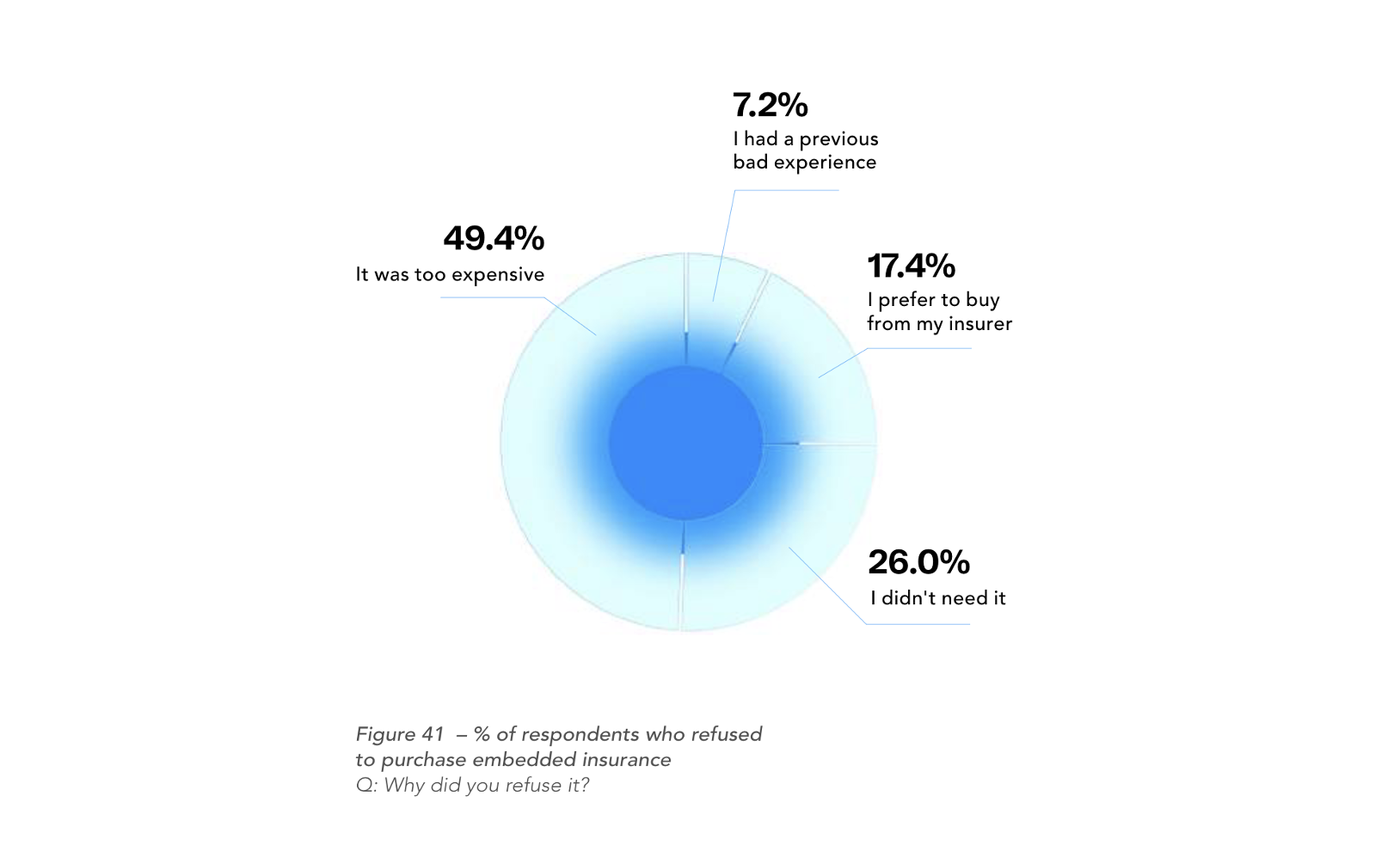 Esto puede explicarse por el hecho de que demasiado a menudo las aseguradoras se han sentido cómodas vendiendo seguros estandarizados con tarifas predeterminadas, gestionados en sistemas heredados, lentos y anticuados. Carecían de los abundantes datos que les permiten conocer el riesgo de una persona y ofrecer un seguro personalizado y razonable en tiempo real a un nivel asequible en el punto de venta.
Estamos viendo que las aseguradoras abandonan esta actitud. Con las importantes cantidades de datos recopilados durante las transacciones en línea, estas ahora pueden localizar las diferencias entre dos clientes cualesquiera y aprovechan la tecnología y los datos de un modo eficaz para ofrecer productos interesantes, en un momento en que es más que probable que un consumidor contrate, a un precio adaptado a sus necesidades concretas. Los procesos de contratación son cada vez más fluidos, se realizan con unos pocos clics o toques. Integrarlos en la transacción elimina las barreras de compra y permite a las aseguradoras llevar productos inclusivos y accesibles a regiones sin servicio. Este enfoque mejora la propuesta de valor a ojos del consumidor.

References
Hurley, J., 2022. Embedded insurance: Definition, examples, benefits. [online] The Future of Customer Engagement and Experience. Disponible en: [Accessed 1 Sept 2022].
Torrance, S., 2022. Embedded Insurance: a USD 3 trillion market opportunity, that could also help close the protection gap. [online] Linkedin.com. Disponible en: <https://www.linkedin.com/pulse... ; [Accessed 1 Sept 2022].
2022. Global Embedded Insurance Business and Investment Opportunities – Q1 2022 Update. [online] Research and Markets. Disponible en: [Accessed 1 Sept 2022].