4 Golds, 1 Silver: Good Life health & wellness engagement app wins Indigo Design Award 2023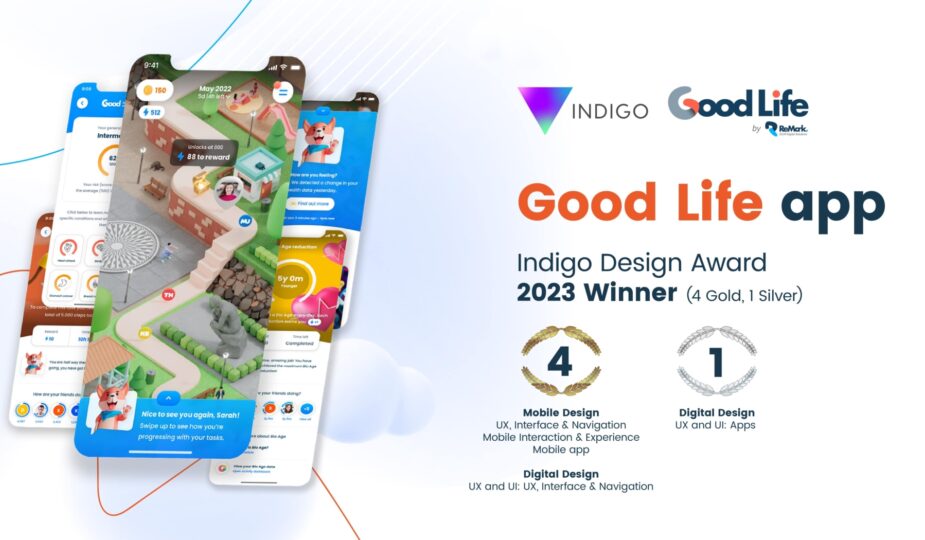 ReMark's health & wellness engagement app Good Life has won 5 Indigo Design Awards 2023, which promotes global creativity and unique projects shaping the world. Competing in the 'Digital Design: UX and UI' discipline for apps, Good Life received 4 Gold awards and 1 Silver award.

Indigo Design Award: recognising exceptional projects
With contenders from over 50 countries, the prestigious Indigo Design Award showcases the design industry's solutions to the world's most pressing issues. The Good Life app received the following awards:
Gold Winner in:
Mobile Design: UX, Interface & Navigation
Mobile Design: Mobile Interaction & Experience
Mobile Design: Mobile App
Digital Design – UX and UI: UX, Interface & Navigation
Silver Winner in:
Digital Design – UX and UI: Apps
Combining engagement and science in one solution
Maintaining long-term user engagement is a challenge for wellness apps aiming to foster positive, healthy lifestyles. The Good Life app provides a UI solution that uniquely combines established habit formation principles using AI. An engaging user experience is created with changing 3D arcade game environments, AI cartoon coaches, and scientific algorithms delivering valuable health insights backed by global reinsurer SCOR. This preps users for the coming metaverse and Web3 era.

The story around Good Life
Wondering about the team behind Good Life and how it was created? Take a look at our journey in this video.
About the Indigo Design Award
Indigo Design Award invites a jury of industry titans and cutting-edge designers, for a competition designed to push boundaries and challenge convention. Every year, they accept submissions for both conceptual and already implemented designs. Young designers who graduated within the last five years are particularly encouraged to apply.
Their exemplary international jury panel includes journalists, respected experts, and designers such as Admir Hadžić (Senior UX Engineer at Google), Allan Cardozo (Design Director at Rappi, UX lead, professor & speaker), Arin Bhowmick (Vice President of Design at IBM), Eugene Lazebny (CEO & UX/UI Designer Tapteek), Pip Jamieson (Founder of The Dots) and many others. They meticulously judge each entry, paying close attention to Indigo's criteria, which includes innovation, design, and the use of technology.