Good Life health & wellness engagement app wins iF DESIGN AWARD 2023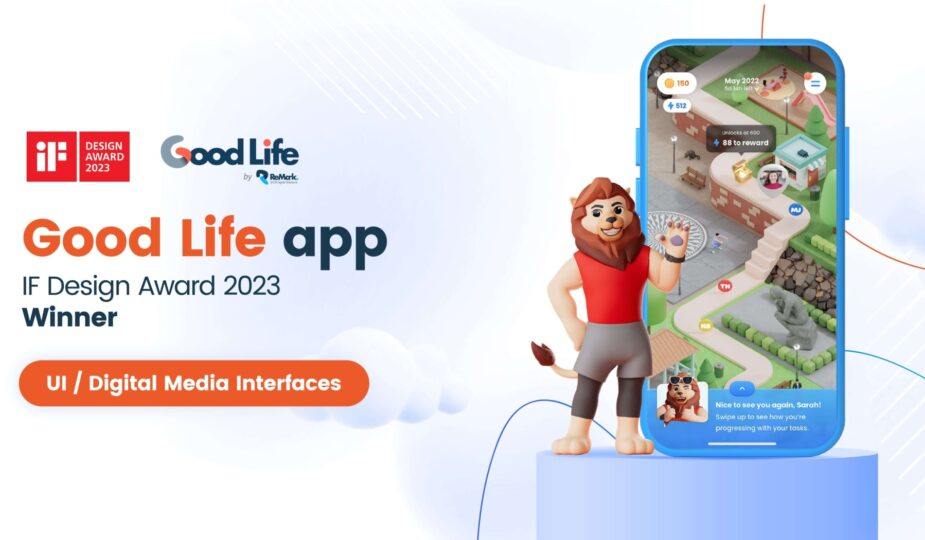 ReMark's health & wellness engagement app Good Life has won an iF DESIGN AWARD, the world-renowned design prize. Competing in the User Interface discipline, Good Life scored highest in the 'Interfaces for Digital Media' category. The awarded solution stands out as the only health & wellness app made for the insurance industry among this year's winners.

Solving the motivation challenge in health & wellness apps
Maintaining long-term user engagement is a challenge for wellness apps aiming to foster positive, healthy lifestyles. The Good Life app provides a UI solution that uniquely combines established habit formation principles with innovative AI machine learning. An engaging user experience is created with changing 3D arcade game environments, AI cartoon coaches, and scientific algorithms delivering valuable health insights backed by global reinsurer SCOR. This preps users for the coming metaverse and Web3 era.
iF DESIGN AWARD: a prestigious recognition
Each year, the world's oldest independent design organisation, Hannover-based iF International Forum Design GmbH, organises the iF DESIGN AWARD. The Good Life app won over the 133-member jury, made up of independent experts from all over the world. The competition was intense: almost 11,000 entries were submitted from 56 countries. Good Life was evaluated on 5 criterias: idea, form, function, differentiation and impact.
Our engagement for health & wellness
Good Life is part of ReMark's health & wellness suite of products combining the art & science of risk. The health & wellness engagement app features:
The Biological Age Model BAM algorithm developed by SCOR – an easy to understand health & wellness indicator based on wearable data.
HeadsUp: an early-illness detection algorithm using machine learning and wearable data to detect early symptoms of common infection such as Covid-19.
Good Health: an AI disease risk prediction engine based on medical examination helping to assess morbidity risks, with a particular focus on lifestyle-related diseases.
Journey to Good Life
Curious about how Good Life was created and the team behind it? Take a glimpse of our journey in this video.
About the iF DESIGN AWARD
Since 1954, the iF DESIGN AWARD has been recognised as an arbiter of quality for excellent design. The iF Design brand is renowned worldwide for outstanding design services, and the iF Design Award is one of the most important design prizes in the world. It honours design achievements in all disciplines: product, packaging, communication and service design, architecture and interior architecture as well as professional concept, user experience (UX) and user interface (UI).