Why call when you can text?: Lessons in UX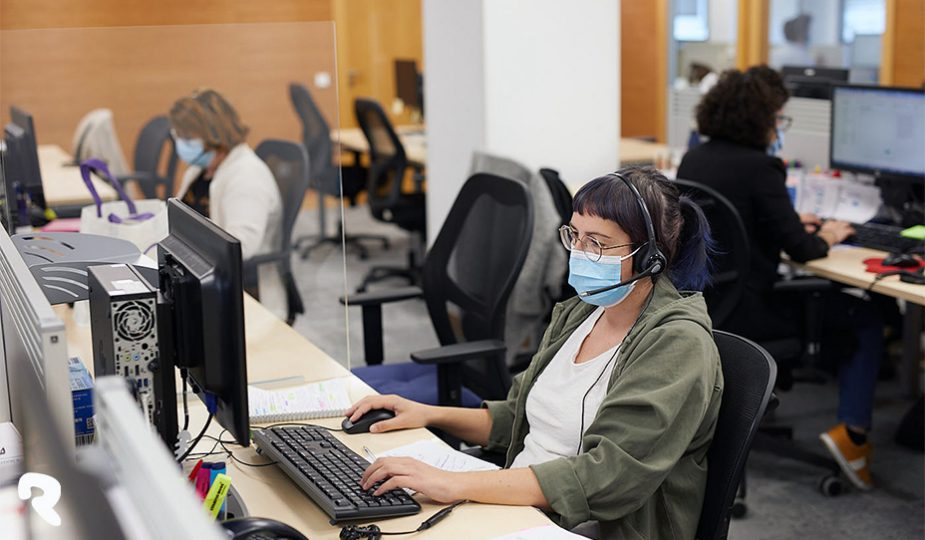 José Luis Hornos

Head of Iberia & Italy
During the pandemic we've all been using our phones more than ever. But how do companies, like telemarketers, manage these increasing call volumes? A recent example from our telephone contact centre in Spain, where we integrated an automatic SMS service, shows just how effective taking a user-first approach can be.

ReMark Spain: The telemarketing experts
ReMark works with clients across Iberia and Italy. Alongside our tech and marketing expertise, a core focus of our work in Spain is a telephone contact centre staffed by some 40 nurses and health professionals. We offer services to banks and insurers including tele-underwriting, medical examinations and claims management, which integrate within our clients' existing sales, claims or customer service processes.
In practice, if a customer applies for life and health insurance with an insurer but needs to provide further information or take a medical exam as part of the underwriting process, the company will refer the individual to ReMark. Our tele-operators will call them, ask a series of questions and record it in the system for the insurer to then assess. Besides conducting the interview over the phone, we also may need to call to identify the person, arrange the appointment and even manage medical tests.
Calling more during the pandemic
People are using their phones more than ever before during the pandemic—at least that's what the data shows. We've all been taking (or making) more personal, work and sales calls. Have you noticed a change?
Just from our own call data, last year from October-December 2020 we had a 28% increase in the volume of cases received in Spain. And since the New Year, the number of incoming calls has increased by 215% compared to January-September 2020. The volume of cases has similarly increased 36% in Q1 2021 compared to the same period the previous year. But this doesn't paint the full picture. We're mainly an outbound centre; our main business is making calls, not receiving calls. Last year the number of outbound calls has gone from 523 per day to briefly recovering to 634 per day at the end of 2020, before dropping to 487 in 2021.
What these numbers mean in practical terms is despite the fact the phone is more important than ever, we've seen longer processing times and delays to tele-operations.
Reforming the current UX process
To manage our call centre in Spain we use a tailor-made software. But this entirely phone-based approach has some known limitations that can give a negative user experience:
The customer is reluctant to answer unknown or unexpected phone calls
We may call at an inconvenient time, and need to call again
The system doesn't allow us to easily adapt the team according to variations in the volume of calls
And, compounding these limitations, there have been a number of external and internal pressures, like:
Swings in call volume, with large peaks when our clients are running commercial campaigns.
Lots of companies moving to phone marketing during the pandemic, leading to customer aversion
Technical issues with the phone lines, like line drops and saturation
Disruptions to the team, partly due to the move to remote work
Going back to SMS
For these reasons, and given the impact both on the end-user and on businesses, it's no surprise that we've been working hard this year to find a solution. The main goal here was to reduce the need to use the phone to just the bare essential and use other solutions to diversify the way we contact customers. In a nutshell, to manage a greater case volume with the same resources.
How did we do it? An interactive SMS messaging service.
Using an external provider, the system needs no integration with our IT system and was up and running in record time. Following our standard workflow, after a client refers a customer to ReMark, our system instead sends a personalised text message to the individual with a link to a personalised landing page. They have to answer a series of questions to schedule their telephone appointment and once they're complete, we send an automatic confirmation text. This process allows us to save the time spent asking the questions over the phone, and is straightforward to automate.
Using SMS in our workflow:
Reduces unnecessary customer interactions
Increases engagement by encouraging proactivity
Reduces bottlenecks
Automates previously manual tasks
It also means we only use phone calls to get in touch with customers who haven't replied to our SMS (or who weren't able to book an appointment).
UX research makes a difference
After only one month the results have been astonishing. Since 1st March, we've sent 3,000 SMS and received nearly 1,300 responses, a 41% success rate. With the information provided in those messages, we have been able to automatically close 95% of appointments.
We've avoided contacting 2 in 5 customers who would previously have received a phone call. And we've improved the quality of those calls, too. The number of incoming calls has dropped by 35% and outgoing calls have risen to 610 every day, reaching a similar level to before the crisis.
User experience is crucial in every area of life, not only digital services. Taking a user-first approach to tele-operations has resulted in a simpler, process with less pressure. In the future, we have big plans to roll the program out to other areas like quality surveys, sending medical documents etc. We'll also be integrating our software with our provider's API to sync data faster.