Nutrition Matters: Health is on your plate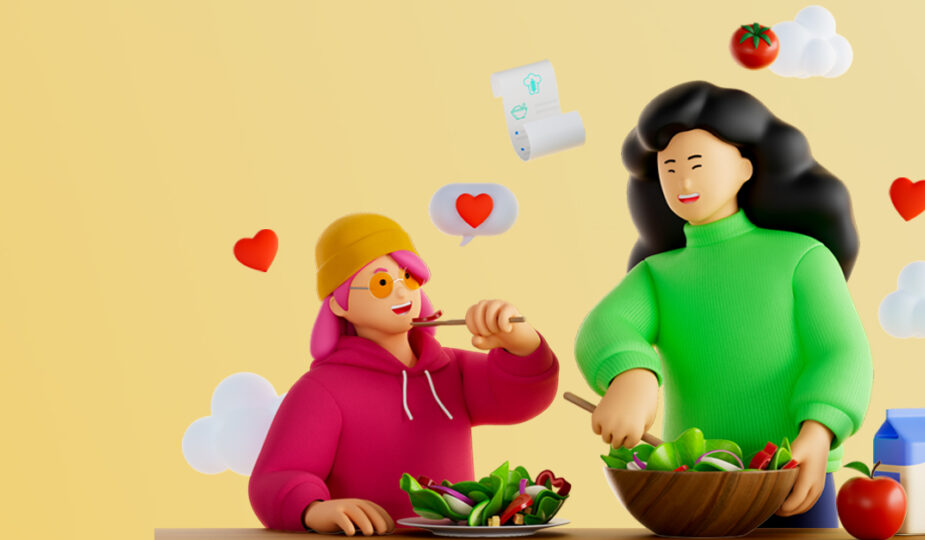 Taking care of your nutrition is crucial to your overall functioning. In this shortened segment - adapted from ReMark's Five Pillars of Health white paper - we look at how nutrition impacts your wellbeing and the risks of neglecting what you consume.
You are what you eat may conjure up visions of people turning into their favourite foods but, when it comes to your health and wellbeing, it's definitely worth paying attention to your diet.
As well as being one of life's pleasures, eating a balanced, high-quality diet can benefit your health and help to keep common lifestyle-related diseases such as cardiovascular disease, cancer and diabetes at bay.
But what is a good diet? The key recommendation in dietary guidelines around the world is to eat a wide variety of different food. This nourishes you, ensures adequate nutrients to support your body's functions and optimises your health and wellbeing. Some foods are more important than others. Vegetables, fruit, whole grains, unsaturated vegetable oils, fish and lean meat or poultry are all synonymous with a good diet.
What's more, good food can actually make us happier. Eating a balanced, high-quality diet can increase happiness, life satisfaction and wellbeing and provide valuable protection against mental health conditions.
Read the Five Pillars of Health here

Risks of a poor diet
Good nutrition is key to good health. The Global Burden of Disease study has found that poor diet is associated with a range of chronic diseases and a major contributor to mortality.
1 in 5 deaths around the world is attributable to poor diet.[1]
Failing to eat a good, balanced diet can increase the risk of many serious health conditions. As an example, a higher intake of dietary fat can have a negative impact on a wide range of health conditions, including cardiovascular disease, diabetes, obesity and cancer.
Saturated and trans-fat are particularly harmful. Studies have shown that replacing these with foods rich in monounsaturated and polyunsaturated fatty acids, including omega-3 and omega-6, reduced the risk of cardiovascular and all cause mortality.[2][3]
Salt is another health concern. Excessive sodium intake is linked with increased risk of developing high blood pressure.[4] Furthermore, processed meat, with its high sodium and nitrate content, has been linked to a 22% increased risk of cancer, especially stomach, colon and rectal cancers.[5]
Another favourite – sugar – is also shown to be a health foe. Eat too much of the sweet stuff and the risk of obesity, hypertension, diabetes, and high cholesterol all increase.[6] There are psychological health risks with excess sugar too. It can disrupt mood and increase the likelihood of developing mental disorders such as anxiety and depression.[7]
Having too much of certain foods can push up risk but it's just as dangerous to leave things out. Several studies have shown that a more limited diet can increase the risk of mortality.[8]
Up to 15% risk reduction for major cancer conditions when you have a good diet.
How diet affects health and wellbeing
The connection between food and health is complex. Here are some relationships to consider when looking to address nutrition as part of a health programme.
What we eat is governed by how we feel, our food culture and experiences but also our knowledge of nutrition. Good nutritional literacy enhances knowledge, competencies, and attitudes to diet, enabling positive dietary changes that have benefits for all aspects of our health. Food information and education is important to help people make better choices.
Healthy eating is associated with positive emotions, better mood regulation, lower risk for depression and anxiety, and improved overall wellbeing. Several studies have found that eating a healthy diet improves depression scores and dietary changes will often be offered as part of a package to manage mental health disorders.[9]
Studies have also found that while eating a high quality diet will help us feel good, it's also important to be mindful when choosing and eating food. Being aware of how you're fuelling your body can help you make healthier food choices.
There's a close relationship between food and sleep. Eat well and you're more likely to enjoy a good night's rest and feel more alert during the day [10]; have poor sleep patterns and your hormones can be disrupted, reducing your ability to regulate food intake [11]. Consistently getting less than six hours' sleep a night has been linked with lower quality nutrition, reduced adherence to a healthy diet and regular meal patterns. The good news is that, where this happens, getting as little as an extra hour's sleep a night, can deliver significant benefits to diet and health.[12]
Good quality nutrition provides the energy necessary to support our daily activity goals but it works the other way too, with regular exercise leading to a better diet.[13][14][15] These dietary improvements are down to the mood enhancement and appetite regulation that physical activity brings. Keep moving – it's a virtuous circle.
Action points
Here are some action points to help you ensure your nutrition feeds your health and wellbeing.
Understand the macronutrients. Protein, fats and carbohydrates are the essential components of your diet. They provide energy and ensure your body's structure and system function. A healthy diet shouldn't restrict or exclude any macros.
Get your micronutrients. Including micronutrient-rich foods in your diet is an easy way to maintain your body's health. Examples include egg yolks for vitamin D; milk for vitamin B12; green leafy vegetables such as curly kale for calcium; and shellfish for zinc
Eat diverse, eat the rainbow. Nutrition guidelines around the world (see WHO recommendations box) point to the importance of eating a wide variety of foods. Including fruit and vegetables from all the colours of the rainbow is a simple way to get a wide range of nutrients including vitamins and minerals.
Cut back on salt and sugar. They might taste delicious but these two can do some terrible things to your health. Reducing your intake, or replacing them with alternatives such as herbs and spices instead of salt, will deliver long-term health benefits.
Be active. Regular exercise makes our bodies crave good food. As well as making us seek out the food we need to stay healthy and keep going, exercise also enhances our mood so we want the good stuff.
Track it. Whether you want to keep tabs on how many calories you consume, you want to eat more fruit and veg or you need to up your protein levels, food apps are a great way to improve your diet.
References
[1] Afshin, A. et al, 2019, Health effects of dietary risks in 195 countries, 1990–2017: a systematic analysis for the Global Burden of Disease Study 2017
[2] ao, X. et al, 2021, Associations of Dietary Fat Intake With Mortality From All Causes, Cardiovascular Disease, and Cancer: A Prospective Study
[3] Guasch-Ferré M. et al, 2015, Dietary fat intake and risk of cardiovascular disease and all-cause mortality in a population at high risk of cardiovascular disease  
[4] Grillo A. et al, 2019, Sodium Intake and Hypertension
Lin, Y. et al, 2020, Salt consumption and the risk of chronic diseases among Chinese adults in Ningbo city  
Newberry, S. J. et al, 2018, Sodium and Potassium Intake: Effects on Chronic Disease Outcomes and Risks
[5] Farvid, M. S. et al, 2021, Consumption of red meat and processed meat and cancer incidence: a systematic review and meta-analysis of prospective studies  
 [6] Yang, Q. et al, 2014, Added Sugar Intake and Cardiovascular Diseases Mortality Among US Adults
Laguna, J. C. et al, 2021, Simple sugar intake and cancer incidence, cancer mortality and all-cause mortality: A cohort study from the PREDIMED trial
Janzi, S. et al, 2020, Associations Between Added Sugar Intake and Risk of Four Different Cardiovascular Diseases in a Swedish Population-Based Prospective Cohort Study
[7] Knüppel, A. et al, 2017, Sugar intake from sweet food and beverages, common mental disorder and depression: prospective findings from the Whitehall II study
[8] Kobayashi, M. et al, 2020, Association of dietary diversity with total mortality and major causes of mortality in the Japanese population: JPHC study  
Cano-Ib, N.et al, 2019, Dietary Diversity and Nutritional Adequacy among an Older Spanish Population with Metabolic Syndrome in the PREDIMED-Plus Study: A Cross-Sectional Analysis   
Neelakantan, N. et al, 2018, Diet-Quality Indexes Are Associated with a Lower Risk of Cardiovascular, Respiratory, and All-Cause Mortality among Chinese Adults
 [9] Sánchez-Villegas, A. et al, 2018, Micronutrient intake adequacy and depression risk in the SUN cohort study
Tulchinsky, T. H. 2010, Micronutrient Deficiency Conditions: Global Health Issues
Muscaritoli, M., 2021, The Impact of Nutrients on Mental Health and Well-Being: Insights From the Literature  
[10] Jacka, F. N. et al, 2017, A randomised controlled trial of dietary improvement for adults with major depression (the 'SMILES' trial)
[11] Castro-Diehl, C. et al, 2018, Mediterranean diet pattern and sleep duration and insomnia symptoms in the Multi-Ethnic Study of Atherosclerosis  
Binks, H., E. et al, 2020, Effects of Diet on Sleep: A Narrative Review  
[12] St-Onge, M.-P. et al, 2012, Short Sleep Duration, Glucose Dysregulation and Hormonal Regulation of Appetite in Men and Women
[13] Al Khatib, H. K. et al, 2018, Sleep extension is a feasible lifestyle intervention in free-living adults who are habitually short sleepers: a potential strategy for decreasing intake of free sugars? A randomized controlled pilot study  
Vitti-Ruela, B. V. et al, 2021, Monitored sleep extension: a feasible strategy to improve diet and women's health
[14] Bu, F. et al, 2022, Longitudinal associations between physical activity and other health behaviours during the COVID-19 pandemic: a fixed effects analysis  
[15] Pavičić Žeželj, S. et al, 2019, The association between the Mediterranean diet and high physical activity among the working population in Croatia