Consumer Insights from US Women Across Generations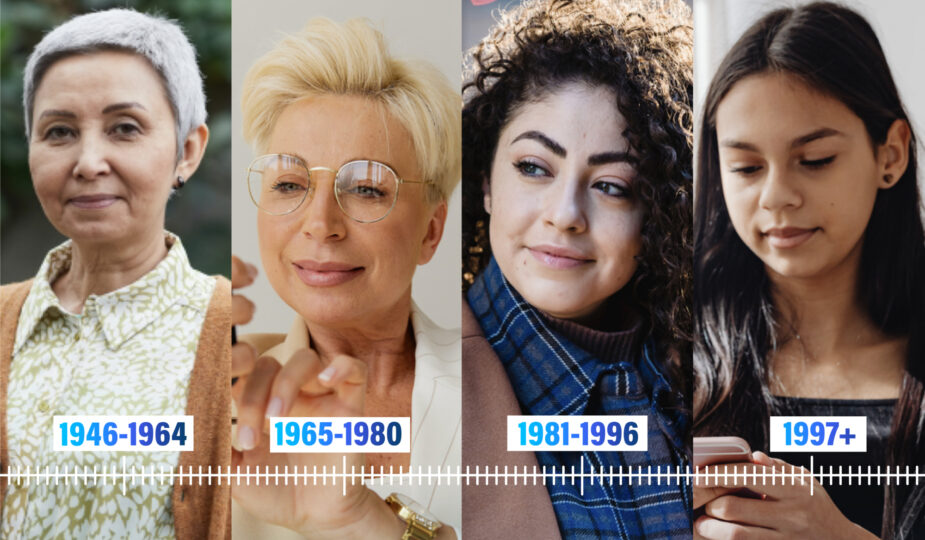 Katie Shivers

Marketing Manager (US)
According to a recent LIMRA study, female life insurance ownership in the U.S. has steadily decreased for six consecutive years. In order to address this unfortunate trend, it is crucial to understand what motivates this demographic.
There is no better source for drawing consumer insights than from the consumers themselves. ReMark's Global Consumer Study, which spans 22 markets around the world, provides an inside look into global health, wellness, technology, and insurance trends. The findings shed light on consumer attitudes, behaviour, needs, expectations, and more.
This article focuses on the 2022-2023 Global Consumer Study data collected from women in the United States. The female demographic is not a monolith, of course, and comparing generations yields some interesting findings into how to attract and retain female consumers of all ages.
Baby Boomers (born 1946 - 1964)
We often assume Baby Boomers aren't open to using digital channels, but that stereotype is no longer accurate. The pandemic forced everyone to rely more heavily on digital channels, and Baby Boomers embraced it and have continued to integrate technology into their lives.
This generation's reported primary cause of stress is their health issues, and they are open and interested in engaging in their fitness digitally. 71% of women in this age group reported using fitness apps, higher than both Gen Z and Gen X usage. Addressing your consumers' primary concerns can be a powerful way to engage them, and insurers may benefit from adopting digital engagement strategies that will help this demographic reach their health goals.
Generation X (born 1965 – 1980)
Generation X women grew up with the rapid advancement of technology, and many were early adopters of new tech such as the home computer. These days, they rely on tech to simplify and add value to their lives. Gen X women most strongly agree that connected objects are a part of their daily life, and report healthy living playing a large role in their lifestyle.
Women in this generation report financial issues as their primary cause of stress. Many are taking care of their kids and aging parents at the same time, which can take a financial toll. This is further emphasised by the finding that 74.8% of Gen X women reported discounts on their insurance premium as a very attractive reward, in exchange for sharing additional data with their insurer. Financial incentives may be powerful tools to appeal to women in this demographic.
Millennials (1981 – 1996)
Millennials were the first generation to grow up with social media and smartphones and have turned many traditional real-life experiences into virtual ones. Digital experiences come naturally to Millennials, and creating solutions for this demographic is worth the investment as they continue to reach new life milestones.
Data from Millennial women suggests that this generation is the most concerned with their fitness, reporting high levels of activity. When compared to other generations, Millennial women are the most likely to download fitness apps, general health apps, and nutrition/diet apps. The app-adoption trend stays true for their relationships with insurers, as Millennial women are also the most likely to download an insurer's app on their phone. This openness to digital engagement is a great opportunity to reach Millennial women where they already are.
Generation Z (1997 +)
Generation Z women are the first to experience 24/7 internet access and social media from birth. They expect on-demand information and instant communication because that's all they've ever known, and they see the physical and digital worlds as one.
The data shows that Gen Z women are the most concerned with their mental health and report the highest level of stress of all generations. They are least likely to have a fitness app, but most likely to utilise mental health apps and find them useful. As Gen Z women age and become target consumers, these trends will be important to consider. Mental health benefits and stress-reduction products or services will add value and effectively address their needs head-on.
Moving Forward
If the life insurance industry hopes to engage more women, it's important to recognise that each generation has unique differences and opportunities. Women have a variety of concerns, including health, fitness, longevity, and overall quality of life. As life insurers continue to analyse data about female consumers, insurance has a strong chance of becoming a powerful force for good in women's lives.