Purchasing insurance: it all starts close to home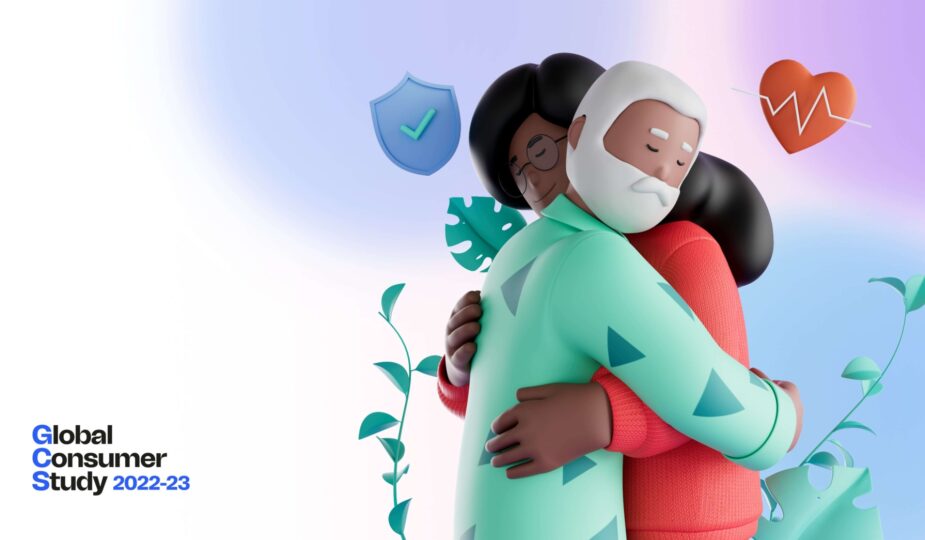 To take a little poetic license with the sayings of Lau Tzu, every journey begins with a single step. What is it that makes policyholders take that initial step on the road to insurance purchase? We asked over 12,000 people from around the world in this year's Global Consumer Study...
#1 Recommendations from friends & family is the number one trigger for an insurance purchase.
Consumers may have little choice if cover is mandatory but where cover, however desirable or advisable, is not an immediate necessity, what inspires or encourages people to take action? To gain insights into the decision process, we asked respondents about their most recent purchases of both P&C and L&H products. We explored, in detail, the triggers behind the purchase; where they went for further advice and information and how they completed their purchase.
When it comes to that important first step, it is recommendations from friends and family that provide the most common motivation to embark upon the purchase journey. This is cited by 26.7% of respondents who had bought a P&C product and 31.6% of those who had bought an L&H product.
We have noted the influence of friends and family on the purchase of life insurance in previous years. Their influence also extends – although not to quite the same extent – to the purchase of P&C products. The significance of word-of-mouth recommendations highlights how important it is to create a positive impression at all levels of customer interaction. It is these impressions that will feed through to personal recommendations.
The data suggest that brochures are the least effective trigger for P&C or L&H purchases. These are likely to be particularly ineffective in reaching younger consumers. However, brochures may still have a place for products targeted at older age groups.
Advice and distribution channels
Whilst friends and family play a key role in setting policyholders on their purchase journey, consumers look to the professionals for advice. Over half of our respondents sought advice from insurance agents or independent financial advisers (52.3% for P&C and 56.1% for L&H).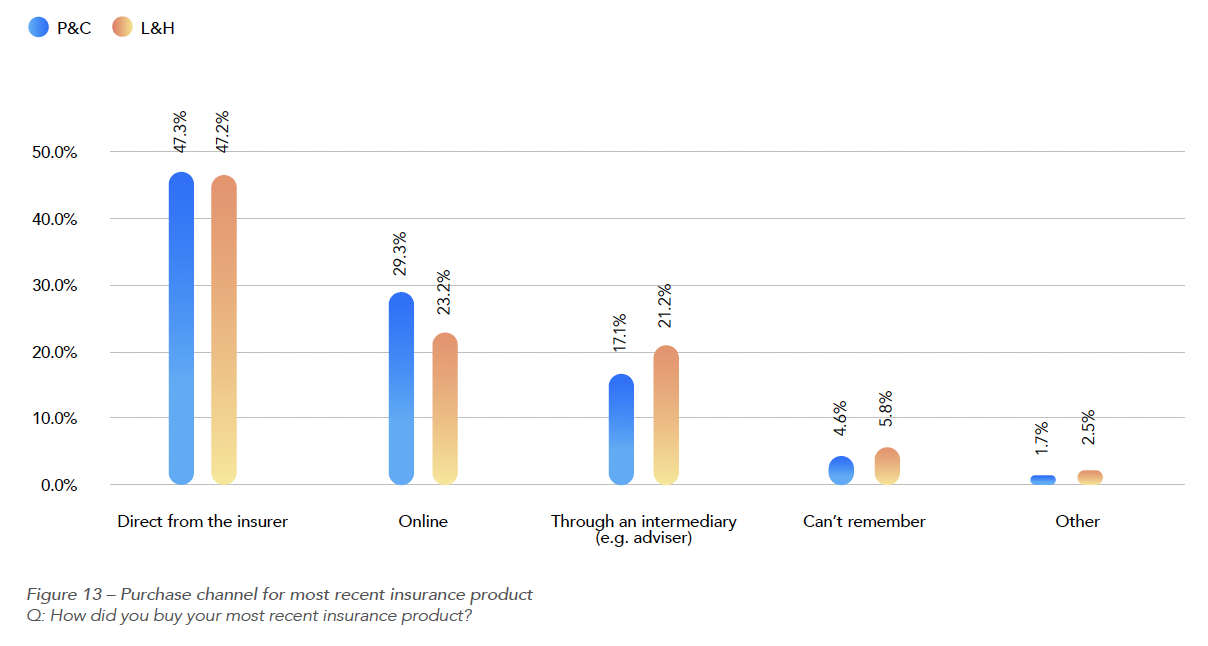 First impressions count
One of the strange things about insurance is that those who buy it hope that they will not have to use it. Those that do claim will see the benefit long after – in the case of life insurance, perhaps many years after – they bought the cover. The experience that consumers receive during the purchase process serves as an indication – possibly the only indication that they will have – of the service they might expect in the event of a claim.
The abstract nature of an insurance product makes it all the more important that insurers create the right first impressions. Respondents who had taken out a policy in the past two years rated their experience of the insurance purchase process. Their views were sought on six different aspects of the process. From these responses we produced five-star rankings for each of the six areas for both P&C and L&H.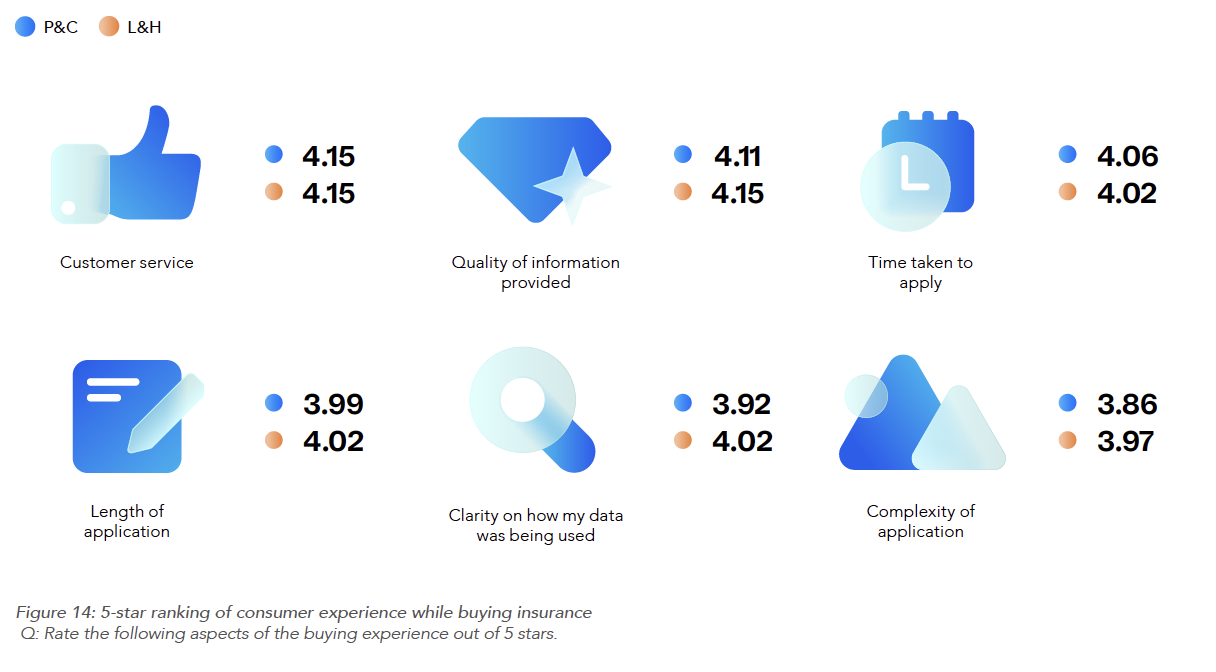 Although there are areas for improvement, these results should provide considerable comfort to insurers. Whether a customer is taking out cover or making a claim, the service they receive will shape their impressions of both the insurer and the product that they have purchased.
There is yet more positive news for insurers in the responses to a question about what actions consumers take on renewal of a policy. Although price comparison websites make it easy for customers to shop around, nearly half of respondents (45.8%) say they would continue with the same policy. There is no doubt that inertia plays a part but, nonetheless, this can be taken as a further sign of their satisfaction with the service provided by the incumbent insurer. Only one in five (21%) say they would consider products from other insurers.