The world's first
Health & Wellness app powered by SCOR's Biological Age Model (BAM)
goodlife_advantages
Backed by
science
Good Life is powered by SCOR's proprietary algorithm, Biological Age Model (BAM). BAM was specifically designed by SCOR's actuarial team to enable individual risk profiling and premium adjustments based on wearable data.
With 20 years of biometrical and physical activity data, BAM is scientifically proven to improve the biometric risk of the world population by encouraging policyholders to be more active. It enables real-time, dynamic underwriting and encourages healthy policyholder behaviors through incentivizing them via rewards.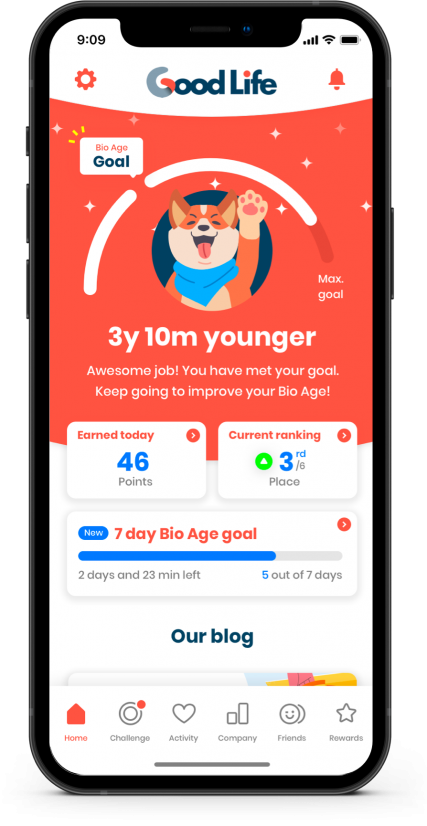 Based on metrics
BAM helps users quantify their fitness efforts by translating 5 key metrics (Steps, BMI, Active Calories, Resting Heart Rate and Sleep Hours) into Biological Age reductions. These metrics are all easily viewed on the app's Activity tab, maximizing the user's sense of control over their Health & Wellness journey.
Users can conveniently track these metrics and their overall activity level through their Biological Age, earning points along the way which can then be redeemed for rewards.
Simply put - the more active you are, the younger you become and the more points you earn. The more points you earn, the more rewards you can get!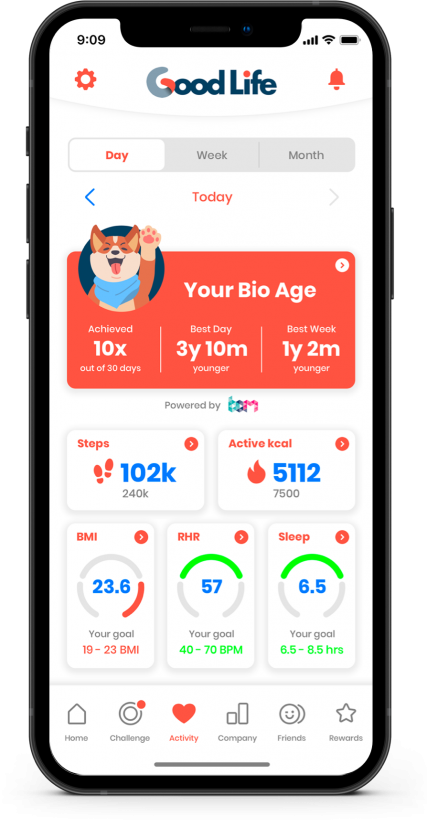 Rooted in behavioral psychology
Good Life encourages positive behavior through motivational gamified UX.
Features include:
Personalized coaching messages to motivate & encourage
Individual metrics view to easily track progress
Daily points earning to promote continuous gratification
Leaderboards to encourage competition
Friends engagement features to reinforce positive peer pressure
Rewards redemption to maintain constant usage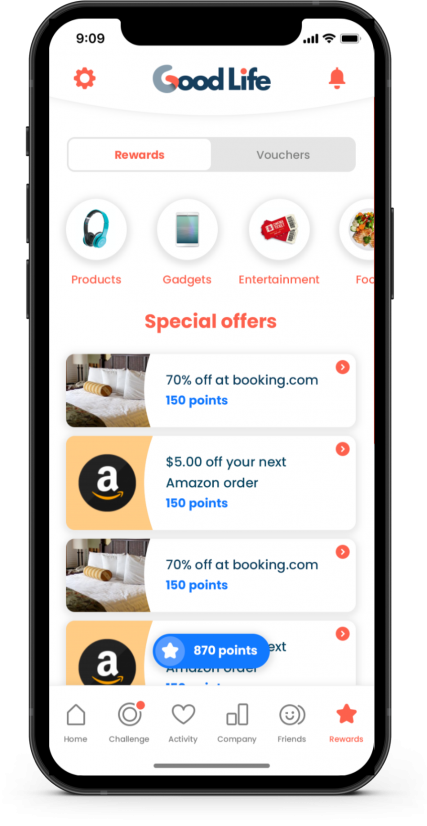 Fueled by strategic engagement
Good Life's team of marketing experts can support you throughout the Customer Journey, from awareness & outreach to onboarding & ongoing engagement.
We can tailor a comprehensive marketing and communications plan covering new customer acquisition and existing customer engagement.
Real-time reporting enables us to identify and optimize key engagement drivers focused on not only retaining users, but also improving their activity metrics.
Engagement strategy examples:
Holistic wellness content creation – financial, physical & mental
Themed challenges – Olympics, charity events
Team competitions – inter-office, inter-region
Personalized videos highlighting individual achievements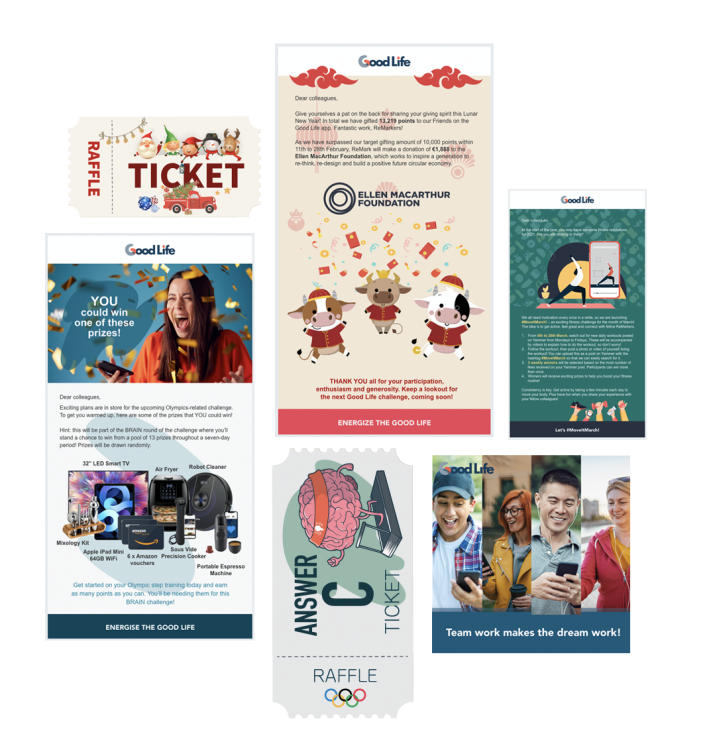 Case studies
The Good Life App: Your Sales Accelerator

See how Good Life can enhance your sales & retention strategy.

Engagement: Healthy Employees are Happy Employees

Discover why engagement is at the core of every successful Health & Wellness program —and how Good Life sets the benchmark.
Sharing Insight-led Innovation
HEAT UP: Health Engagement Activity Trends

Stay ahead of the curve with this educational, 15-part email series. Delivered bi-monthly to your inbox, content to inspire your company's health & wellness initiatives.

Subscribe

Download our latest Global Consumer Study

Benefit from the research and insight ReMark freely provides through their 8th annual Global Consumer Study—the largest of its kind in the world.

Download
Meet the company behind Good Life
ReMark is the world's largest insurance consultancy helping insurers grow sustainably. Part of the SCOR Group, we help our clients gain, retain and engage customers. Good Life is part of ReMark's industry-leading suite of InsurTech solutions and its benchmark engagement platform.
Read more