Why is nobody talking about insurance literacy?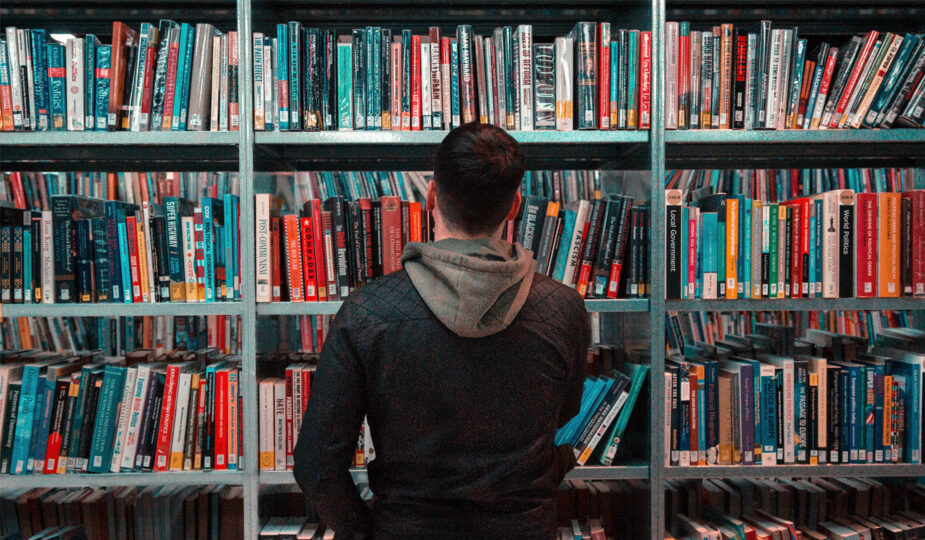 Unlike financial literacy, hardly anybody is talking about insurance literacy. Since it's World Education Day, take time to read about what it is, why it matters and what insurers can do to help change the conversation—for everyone's benefit.

Finance, and insurance, are no longer industries shrouded in mystery, their products accessed only by the well-educated and well off. Everyday consumers can invest in the stock market, open a savings account, and buy an insurance product, often with just a click or swipe of their finger. They're choosing what to buy and when. And to make these decisions, consumers must be empowered—financially and insurance literate.

What is insurance literacy?
Financial literacy (also called financial wellness, financial fitness or 'FinLit'—yes, I know) means the knowledge and understanding of different areas of finance, from savings accounts to pensions. It also means the ability to make good decisions about money; like how, when and whether to use different financial products. Being financially literate isn't necessarily about being rich, but rather having the confidence to know what your options are to save, invest and so on.
Our working definition of insurance literacy is very similar—since the two are closely related. There is a side which is about knowledge and understanding­, the theory, and then a practical, decision-making side that affects consumer behaviour. That could be people's willingness to disclose information, purchase/claim behaviour, preferred channels, engagement and even whether they'd call their insurer in an emergency. Much of this behaviour has to do, simply, with trust.
With insurance, though, there is an added dimension: Risk. If people are asked about the chance and impact of different unfortunate things happening to them (e.g. cancer, plane crash, losing a phone), most get it wrong. In general, consumers significantly underestimate low-probability, high-impact events.

Here's a short overview we made for a Reuters Future of Insurance Europe event, with CEO Na Jia:
Why insurance literacy?

People have woken up to the need for financial literacy. The OECD is measuring it, the FT launched a campaign on it, and banks, from HSBC to American Express, are even openly advertising money management courses. Since the pandemic, supposedly two-dozen U.S. state legislatures are now considering bills on financial literacy education.
In some cases, insurance is just considered part of financial literacy, alongside investments, savings, pensions and so on. And when it is, insurance frequently ranks among the least used, and least understood, of any common financial product.
As SCOR, our parent company, wrote in a recent blog post, while the need for insurance is evident to those of us who work in the industry, to the general public, the purpose of many products just isn't self-explanatory. Most people do not even read the documentation that comes with their policy.
So why is there almost nothing written specifically on the topic of 'InsurLit'?
A recent study has suggested there are less than 40 publications worldwide on insurance literacy, and even fewer individual authors. Though the actual numbers are probably larger, it's hard to avoid the fact that there really is no coordinated, global approach to the issue. A brief search on Google will show you that almost all the results are from academic institutions; not from the insurance industry itself. This is only compounded by the fact that regulation, welfare structures, consumer behaviour and more differ greatly depending on the country.
Changing the conversation
To see fundamental improvement on literacy, there are a number of steps we need to take:
Benchmarking: Having a baseline to measure the current level of insurance literacy
Consumer feedback: Taking time to understand people's needs, and barriers they face
Raising awareness: Making sure people understand the importance of the topic
Coordinating with other actors: Connecting companies, academics and others researching IL
Taking action: Giving practical, free education to consumers, or working with regulators to change the guidance
This year ReMark is looking mainly at the first two; although we're open to initiatives that explore the other steps. SCOR for instance has set up an internal working group on insurance literacy, and even started a partnership with Young Enterprise, a UK charity to educate young people on finance.
This is what we mean by benchmarking:
Synthesise existing (localised) data on it
Measure it ourselves on a large scale
When we approached the topic, we found most previous attempts to measure insurance literacy were limited to only one country, or else to a smaller sample size of just a few hundred respondents.
That's why we're very excited about this year's Global Consumer Study! It's a survey we run every year on insurance consumers, asking about relevant topics like data privacy, purchase behaviour and more. Our latest report, called ReConnect Life, had nearly 13,000 respondents from 22 markets, answering roughly 100 questions.
We added a new section on insurance literacy, and it has two parts. Firstly, a self-reflective section where respondents had to answer questions about how they saw their own insurance knowledge. And secondly, an insurance quiz to test that knowledge.
Our findings on insurance literacy
So what do our results show?
Perhaps surprisingly, over 90% of people globally believe they have at least some understanding of home, motor, life and health insurance.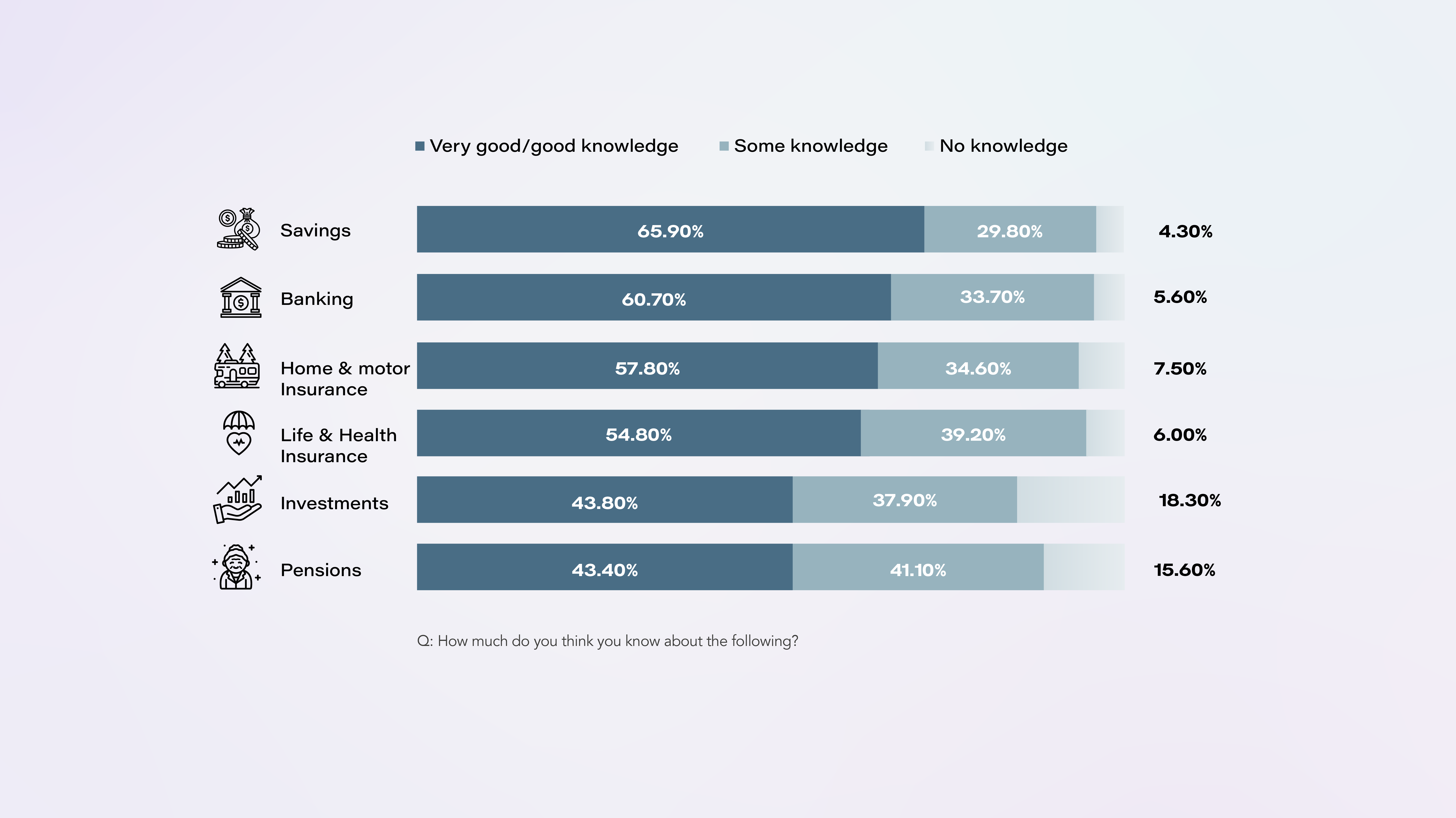 That's higher than people's knowledge of more specialised areas of investments and pensions, and understandably lower than things like banking. When looking just at life & health insurance, most people also feel confident, rather than confused, when applying for a policy.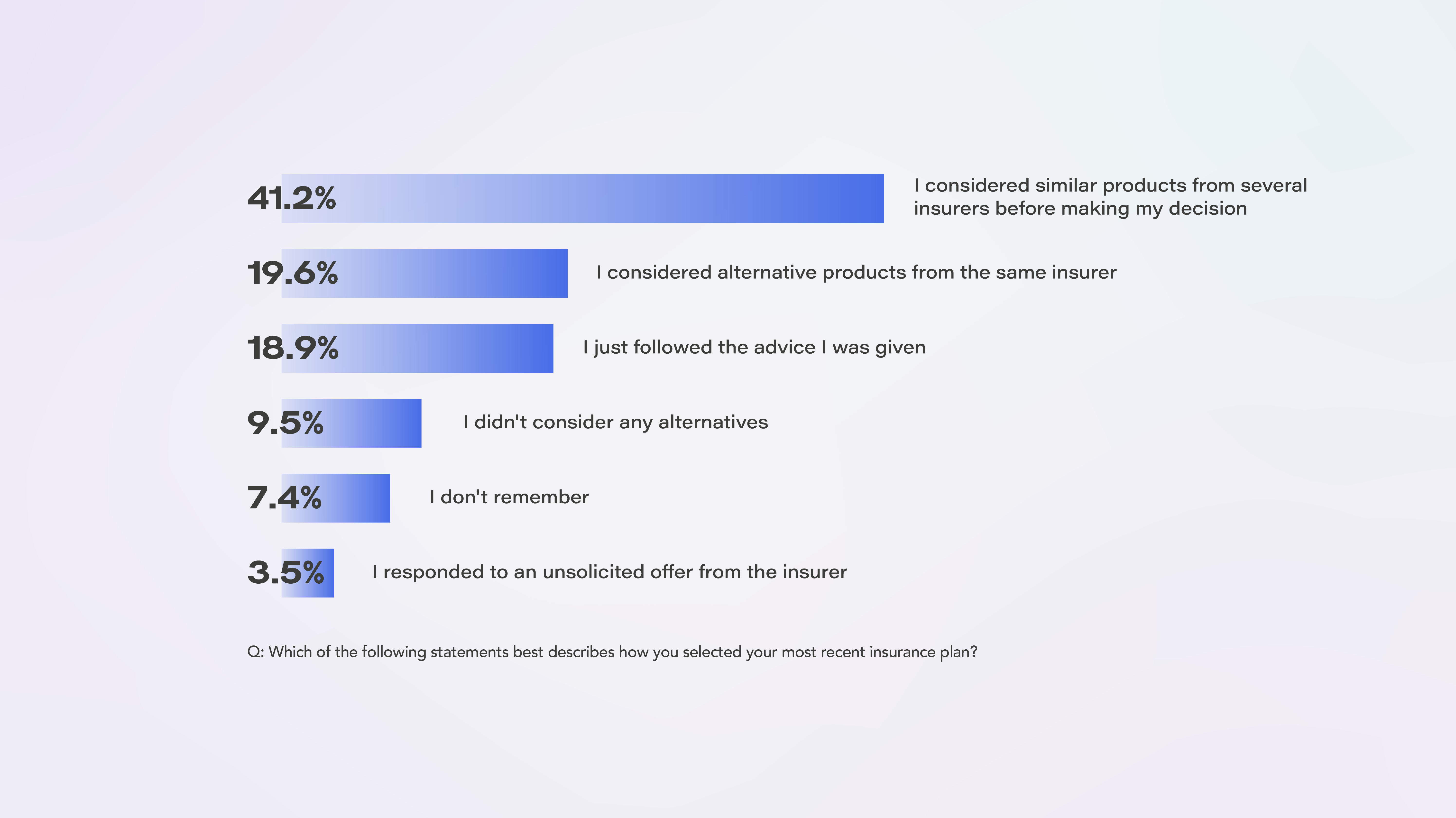 Consumers also feel able to shop around for the best deal or product before choosing an insurance plan to take out. Two in five people consider products from several insurers before buying. Less than 10% said they didn't look for any alternative products.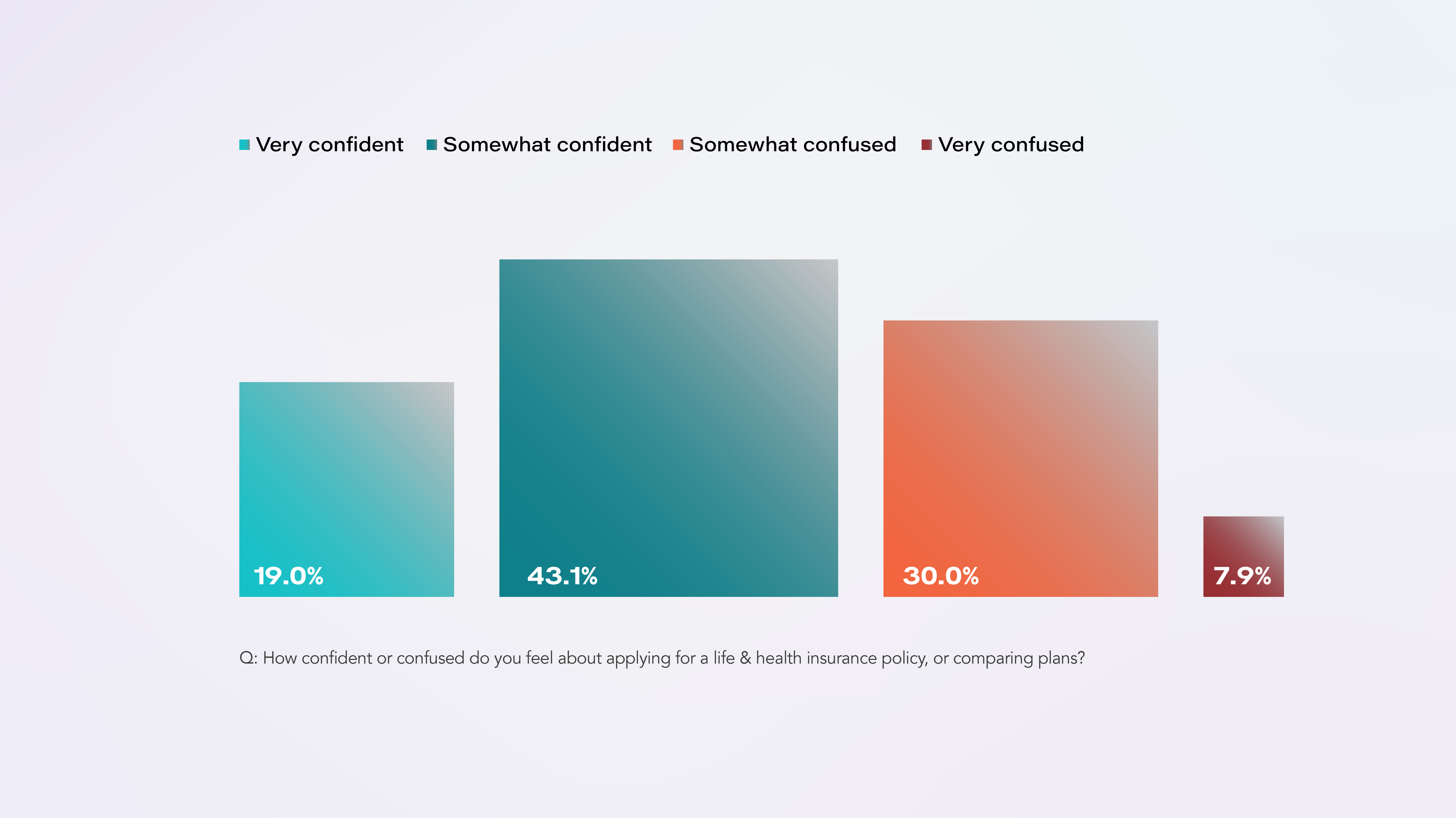 These findings paint a remarkably positive benchmark of consumer insurance literacy.
In practice, however, it isn't a full picture. These are only the self-reported figures. When it came to quantitively testing people's understanding of risk, products, underwriting, exclusion criteria and more, the outcome is different.
We combined the answers to a short insurance quiz into a simple 0-10 score. The higher the number, the more questions were answered correctly. The global average was 6.59 out of 10—which means people answered two out of three questions correctly. On a country-by-country basis, established markets (based on the OECD insurance spending figures) have a significantly higher understanding of insurance compared to emerging/growth markets.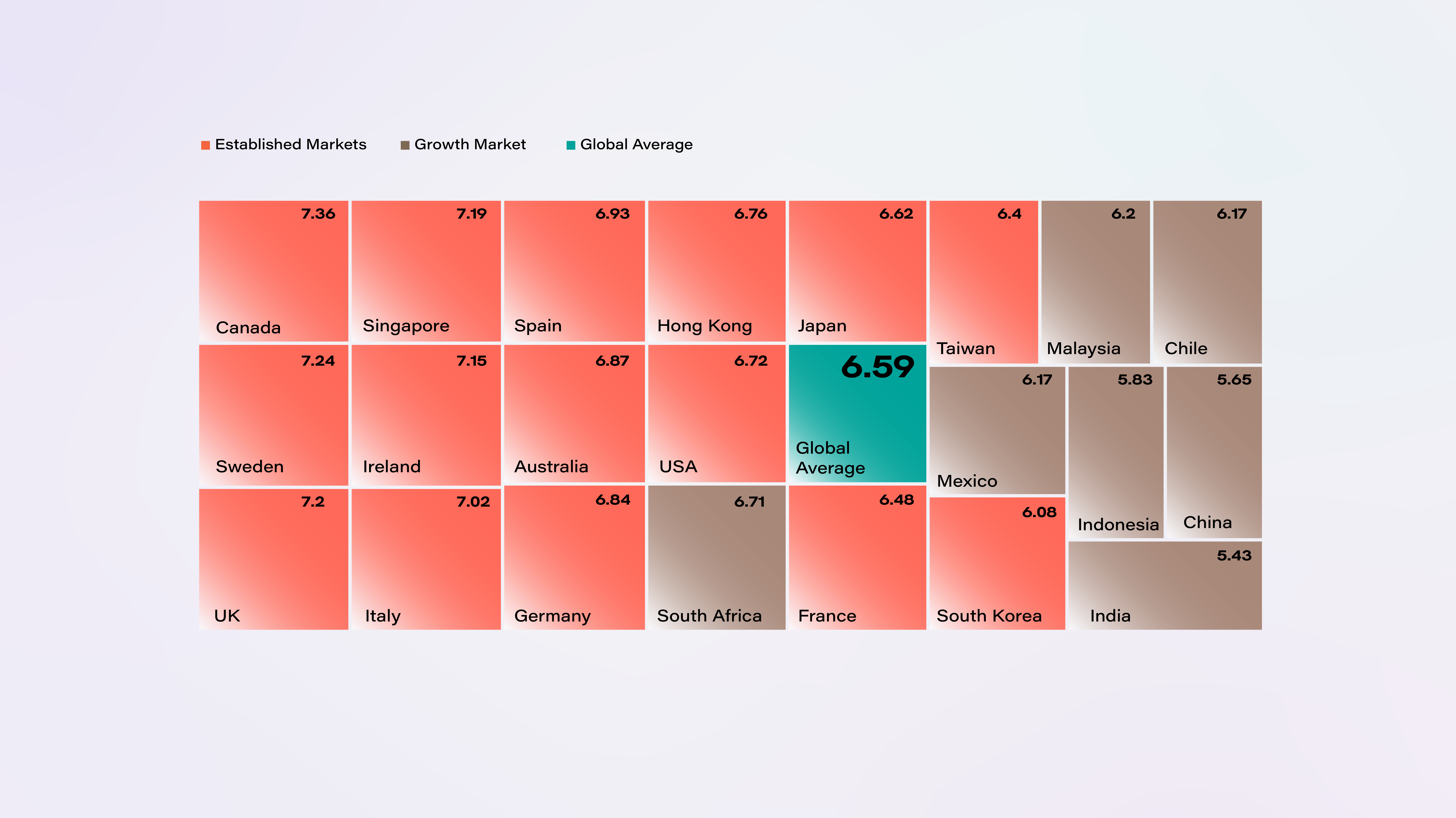 Additionally, consumers seem to be relatively poor at estimating their own understanding. Canadian respondents, for example, who claimed they didn't have a very good understanding of insurance, actually have the best literacy score worldwide. India, on the other hand, whose self-reported understanding and confidence was the highest of any country, have the lowest score.
The older you get, the more insurance literate you become. Each generation has a higher score than the last. Perhaps you can relate to that! The same is true for education; people who left school before their 18th birthday are far less insurance literate than those who had completed an undergraduate degree or professional qualification.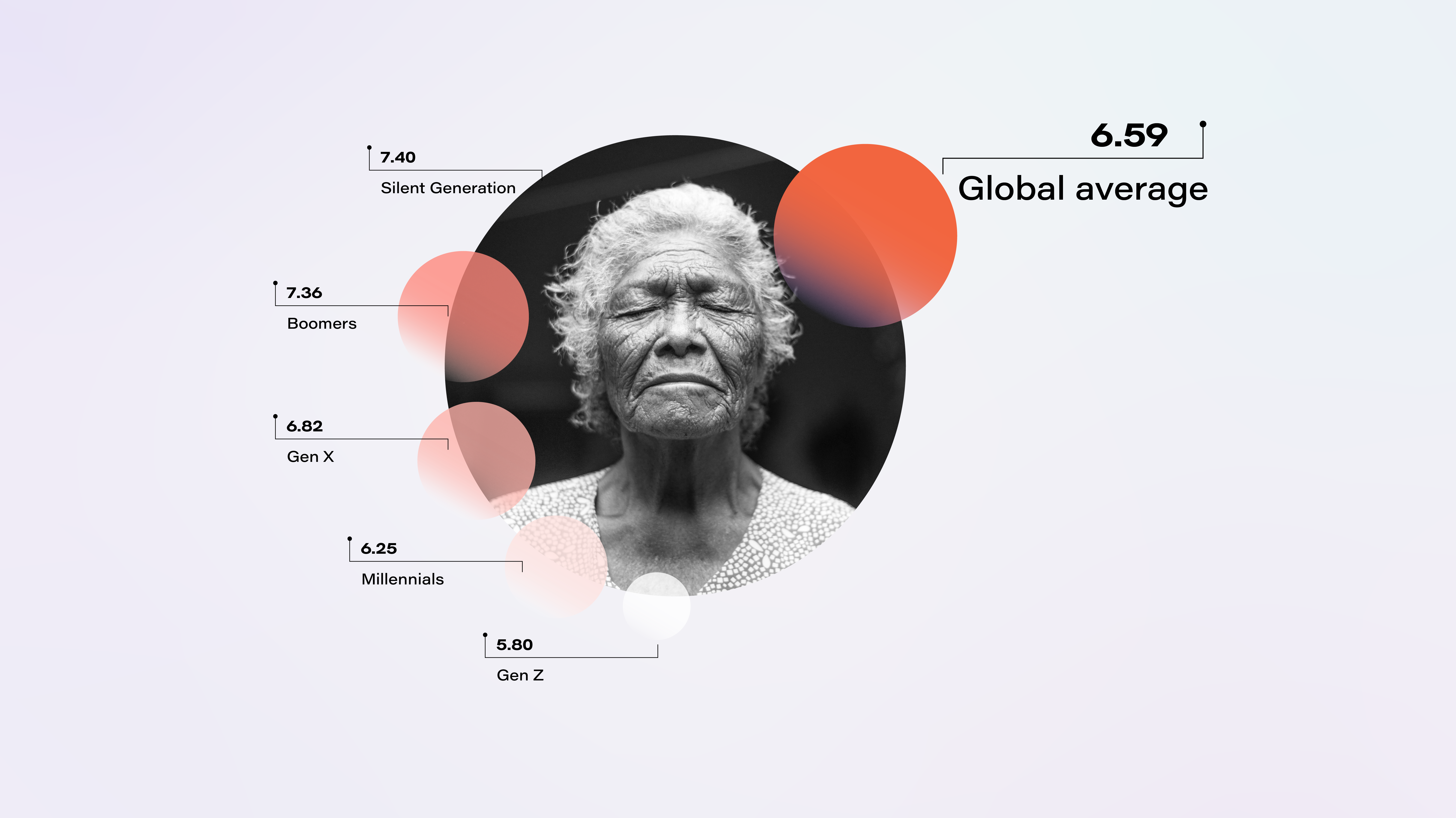 One thing to bear in mind is that our survey was conducted online using a market research company. This may also affect the results on insurance literacy. Using the internet to conduct a survey can attract certain biases, and that's why we've also screened by age, gender, education and more.

Insurance literacy affects your behaviour
Consumer knowledge, clearly, has an impact in practice. At the very minimum, as we mentioned at the start, having a better understanding of risk will change purchase behaviour: people are more likely to own the right products at the right time.
And although we are still at an early stage in our analysis, there are some other interesting behavioural effects we've already discovered from our survey. As CEO Na Jia highlights in the earlier video given at Reuters Future of Insurance Europe event, insurance literate consumers:
Are more aware of risks, and likely to buy insurance in advance of shock/surprise events like Covid rather than after
Like to go direct to the insurer rather than buying through an advised channel like an IFA
Are more open to receiving communications from their insurer about new products and discounts
Have a more positive view on receiving rewards from their life insurer based on reaching physical activity goals
This is something that we will look at in more depth this year (2022), including with the next edition of the Global Consumer Study, so stay tuned.
What next?
It would be remiss not to mention that today is World Education Day. Our survey found that 72% of consumers want more education on life and health insurance, which rises to nearly 90% for younger generations in growth markets.
Helping consumers make better financial and insurance decision is a great opportunity for the industry and can benefit consumers and insurers alike—as well as helping to create more resilient societies as a result of greater penetration of insurance coverage.
Insurers in every market we surveyed have a vested interest in improving insurance literacy. Empowered consumers will be more open to buying insurance or upgrading their existing cover, will go directly (suggesting the need for better customer journeys, especially online) and will be open to ongoing engagement.
On this education day, here are a few steps you can take to change the narrative around insurance literacy:
Share this article on social media with your own reflections to raise awareness!
Explore the full results on literacy on our dedicated page
Get in touch with us to:

Share what you're doing on insurance literacy (we'll pin it to the bottom of this page!)
Talk more about the topic
Learn how we can help you engage your customers
ReMark is not the first to talk about insurance literacy, and if you're an insurer, academic, regulator, NGO, educator or other organisation, we'd love to hear from you!