What do the world's consumers know about insurance?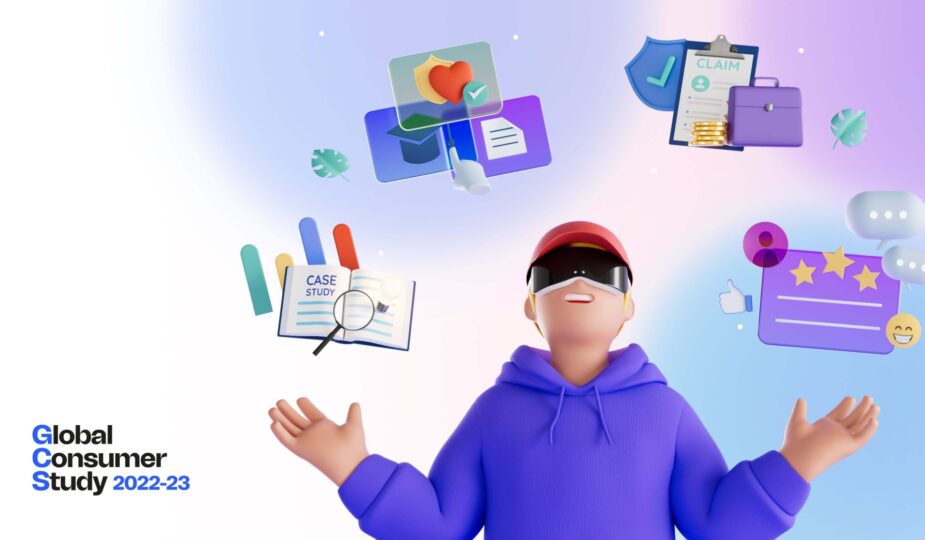 In the 21st century, consumers want more from their relationships with industries. For insurers, this means understanding how we can support people's financially literacy. To do this, we first need to assess what people know about insurance. Our Global Consumer Study 2022-23 tested over 12,000 consumers on their insurance knowledge. Here's what we learnt...
6.25 / 10 Global Insurance Literacy Score 2022
How do you measure insurance literacy?
As a first step in gaining an understanding of insurance customers, our study sought to gauge respondents' knowledge of insurance, both in terms of what they think they know and what they actually know. The survey extends to other financial products, such as pensions, savings and banking, making it possible to put consumers' understanding of insurance products in the context of the broader financial market.

When asked how much they thought they knew about different products, 56.3% of respondents professed to have a good or very good knowledge of L&H insurance, with 58.6% saying that for home and motor insurance (Figure 1). This puts the consumer understanding of insurance products below that of savings and banking but above that of pensions and investments.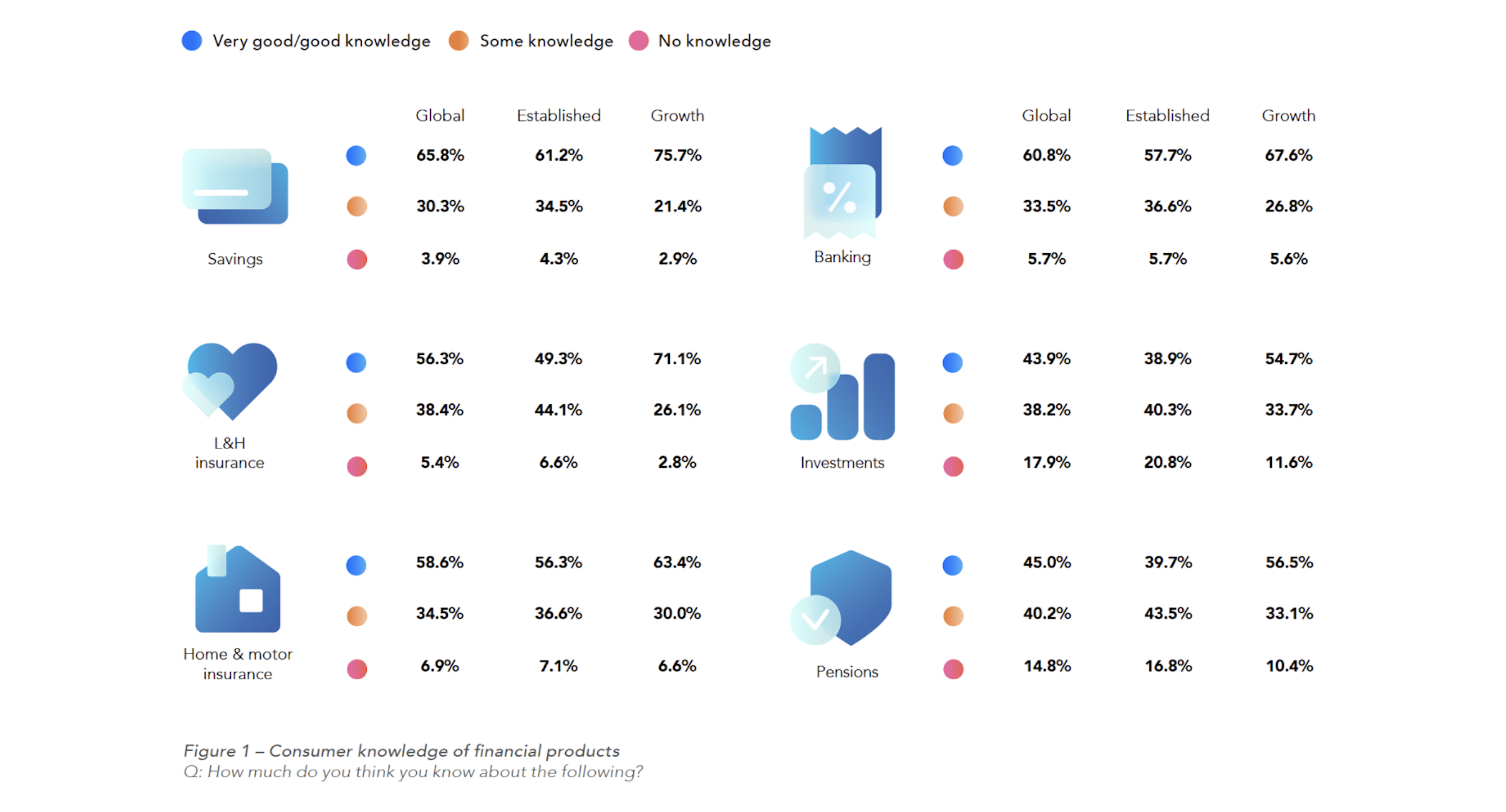 Respondents from growth markets exhibited more confidence in their knowledge than those from the established markets. The reported knowledge of L&H insurance was a prime example. 71.1% of respondents in growth markets think they have a good or very good knowledge of this sector compared with 49.3% in established markets. This is a feature that is repeated across all the other five financial product areas. We shall see later that this confidence may not be entirely justified.
Identifying the insurance knowledge gap
For a second year, the survey included a quiz to test respondents' knowledge of insurance – with a first inclusion of P&C products this year. Respondents were assigned an insurance literacy score out of a possible maximum of 10 based on their answers.
The global average score is 6.25. But as we observed last year, the results highlighted some marked differences across the markets included in the survey.

7.26 / 10 Japanese consumers had the highest insurance knowledge

4.41 / 10 Indian consumers scored the lowest
The results also underlined that there can be a difference between what people think they know and what they actually know. It was respondents from the growth markets who expressed the greatest confidence in their insurance knowledge and yet, it was respondents from those markets who had the lowest literacy scores.
There are also significant differences across the generations, with literacy scores increasing with age. This is to be expected given that knowledge is likely to be absorbed through greater exposure to insurance products.
Understanding consumers' education desires
Whatever the self-perceptions – or misconceptions – of their insurance knowledge, the vast majority of respondents (69.8%) acknowledged that they had a need for more education on insurance matters. The greatest thirst for further education is in the growth markets where, paradoxically, respondents thought that they already had a good level of knowledge.
This message is consistent with findings from last year's survey, both in terms of the overall demand for further education (in 2021, 72.0% of respondents felt the need for additional education about insurance) and in the differences noted between growth and established markets (Figure 5).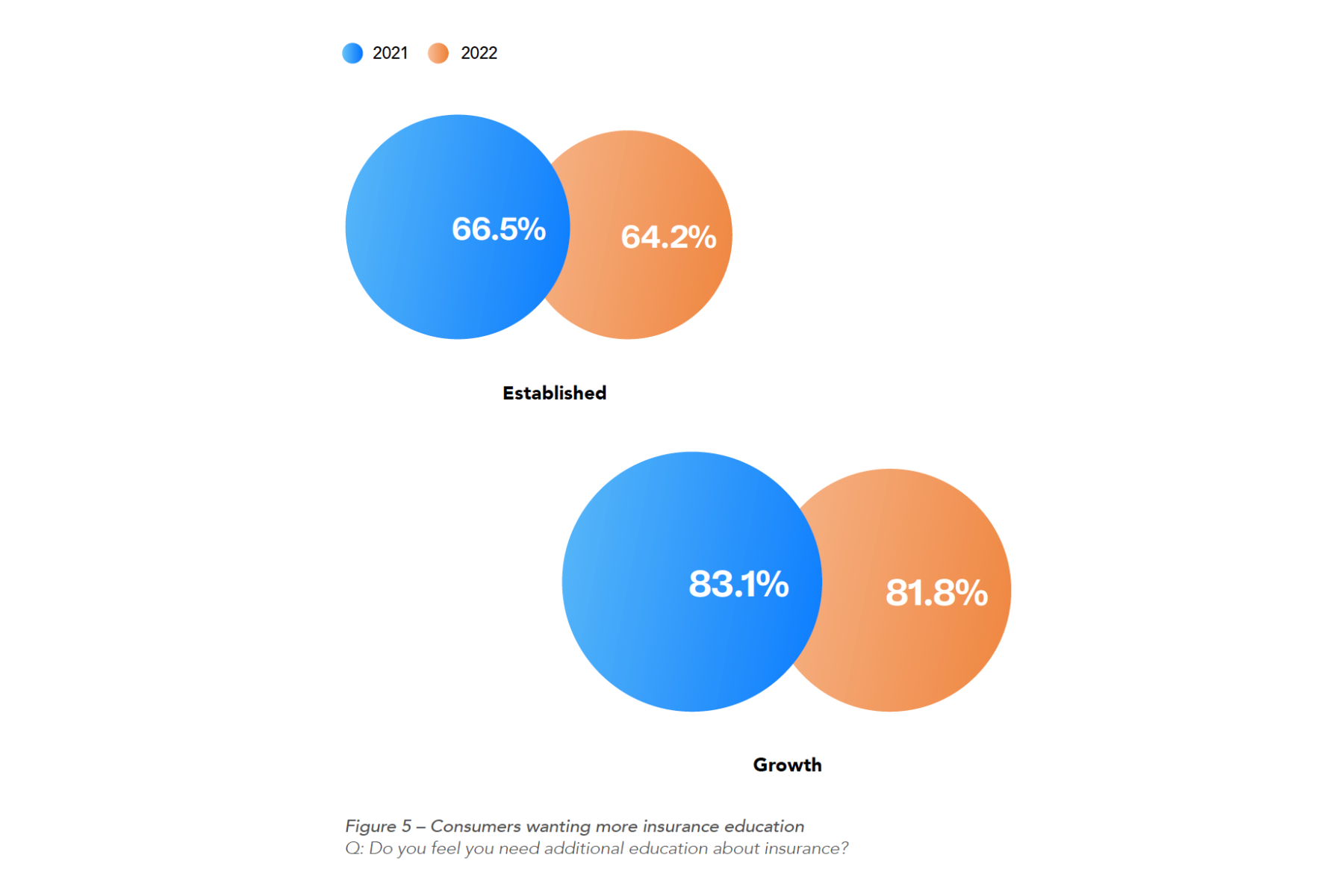 At the other end of the spectrum, the least enthusiasm is recorded amongst respondents in France (40.0%) and in Germany (45.5%). This could be interpreted as a sign of apathy since in neither country were the self-perceptions of good or very good knowledge particularly high – just a little above the 50% mark. The Germans did, however, record a fairly high literacy score (7.13). Maybe they were simply more realistic in their evaluation of the level of their insurance knowledge.
Filling the insurance knowledge gap
Insurers are not only ideally placed to meet this demand for education, but, arguably, have a vested interest in doing so. Greater understanding of insurance products will lead to more confident and informed purchases. This, in turn, is likely to result in cover that satisfies needs and reduces the reputational risk of unwanted surprises at claim stage.

The demand for education is clear. But how should it be delivered? Our survey asked respondents about their preferences. Preferences vary between established and growth markets and by generation, but across markets and all generations the most popular media are a one-to-one call and online courses.
As one might expect, there are also clear differences in preference by generation for, on the one hand, brochures and printed material and on the other, use of social media or blogs. The print medium is, in fact, the most favoured option amongst the Silent Generation but amongst the least favoured by Gen Z.
Understanding preferences can help insurers target their educational material. Educational material relating to topics such as long-term care or equity release is unlikely to reach its intended audience through social media or a blog! However, the spread of responses across all demographics demonstrates the importance of offering a variety of training media.