Velogica 2.0: Improving the No. 1 e-underwriting platform in France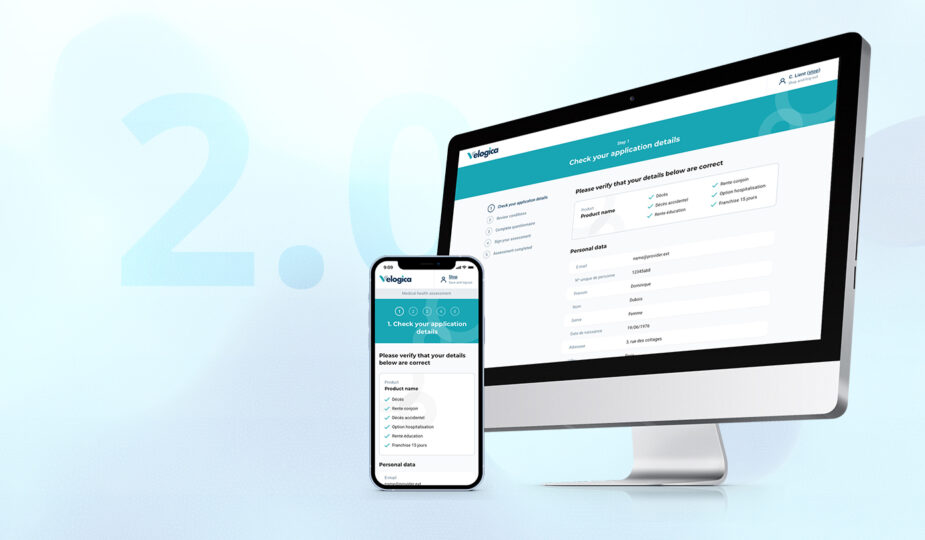 Now integrating a new API, revamped UI/UX platform and SCOR's cutting-edge biometric risk calculator VITAE, Velogica's latest update means it continues to provide a seamless and inclusive e-underwriting journey for insurance customers
Moving to a faster, more secure API solution
In Q4, ReMark's Velogica rules engine will be offered as an API-based solution. This new approach to system integration and data transmission will allow insurers to have greater scalability and implement Velogica faster into their existing CRM platforms, reducing deployment timelines by up to 30%. Customers can expect 90% underwriting decisions to be made within one minute, with less than 10% of cases requiring human intervention. The API model also ensures that access and authentication can be limited to authorised individuals, in line with ReMark's ISO27001 certification on information security.

Revamping our UI/UX for a seamless experience
Velogica's user interface has been revamped, and customers are guaranteed a highly responsive, seamless experience as they move from quote through to health declaration and policy issuance. Our portal solution has many new features including a secure medical space for customers, an admin dashboard for agents, and a dedicated workbench for underwriters.
VITAE: Inclusive underwriting through machine learning
Based on large and deep datasets, and leveraging machine learning, VITAE, SCOR's cutting-edge biometric risk calculator, will be offered in the Velogica solution. This new calculator enables a more inclusive underwriting, extending the spectrum of risks that can be underwritten and offering underwriting decisions that fit the individual profile of each applicant.
Insurers will also benefit from access to PowerBI performance dashboards, and regular industry benchmarking reports.
Glossary of terms
API: Application Programming Interface: set of protocols, languages allowing two different softwares to communicate between one another
UI/UX: User Interface and User Experience
Power BI: Microsoft tool to visualise data