MSI, ReMark, MEDRiNG partner to launch smart preventative healthcare solution in Vietnam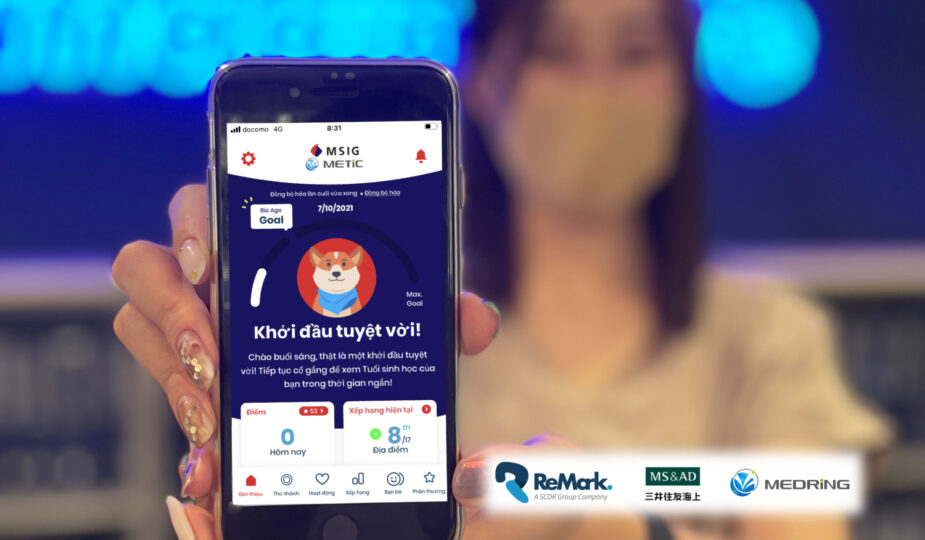 Using ReMark's Good Life mobile app and 'AI Disease Risk Prediction Engine', insurer Mitsui Sumitomo Insurance will look to develop a new type of smart medical insurance. The project aims to lower morbidity risks and offer an engaging health program that lets people track their physical activity and earn rewards. It will be rolled-out to patients of health clinics in Vietnam operated by MEDRiNG, a Japanese medical start-up.

Making medical data smarter with AI
For this Proof-of-Concept program, ReMark developed an AI Disease Risk Prediction Engine. Using regular medical examination data gathered from a MEDRiNG clinic in Vietnam, the proprietary algorithm can help detect morbidity risks early, with a particular focus on lifestyle-related diseases. This will enable any potential health risks to be treated earlier and managed appropriately. Mitsui Sumitomo Insurance will analyse the results of the program before looking to scale the project up, or develop a tailored insurance product.

Rewards for healthy living
Patients who visit the clinic will also get access to the Good Life mobile app, which uses smartphone and wearable data to calculate a person's 'Biological Age'—a measure of physical health. The app is powered by SCOR's Biological Age Model BAMTM algorithm. Taking user activity like the number of steps walked, resting heart rate and sleep time, Good Life can help individuals track their own fitness goals and raise awareness on the importance of healthy living. Participants who improve their Biological Age can receive rewards, such as gift vouchers.
For the future
A number of young people in Vietnam are at risk of developing lifestyle-related diseases, partly due to a lack of exercise. The MEDRiNG coverage aims to provide more treatment choice, better-quality medical services, and professional health advice to the Vietnamese population. This Proof-of-Concept program will allow MSI to tailor a smart medical insurance product that promotes healthy living in Vietnam by making use of the data generated. Going forward, the three companies will continue to jointly accumulate know-how on prevention, health awareness and care, and aim to build a sustainable business model that contributes to societal well-being in Vietnam.



About MSI
Mitsui Sumitomo Insurance Company, Limited (MSI), established in 1918, is one of the largest non-life insurance companies in Japan and responsible for a core business of the MS&AD Insurance Group. MSI is exercising its comprehensive capabilities to offer insurance and financial services business globally through an overseas network of 42 countries and regions. Making full use of over 90 years' experience in international business, MSI provides products and services to alleviate the wide variety of risks occurring throughout the world.
https://www.ms-ins.com/english/company
About MEDRiNG

MENDRiNG is a Japanese medical startup headquartered in Hongo, Bunkyo-ku, Tokyo, with a clinic and system development base in Hanoi, Vietnam. MEDRiNG are developing smart clinics "METiC" that utilize IT systems in every process of operating a clinic, and developing a cloud-based medical care support system "MEDi" for the purpose of promoting digital transformation for clinics in Southeast Asia. In this project, MEDRiNG TOKYO INTERNATIONAL CLINIC (METiC), a clinic owned and operated by MEDRiNG, will be the base for verification and development.