Income and ReMark take digital insurance innovation to Japan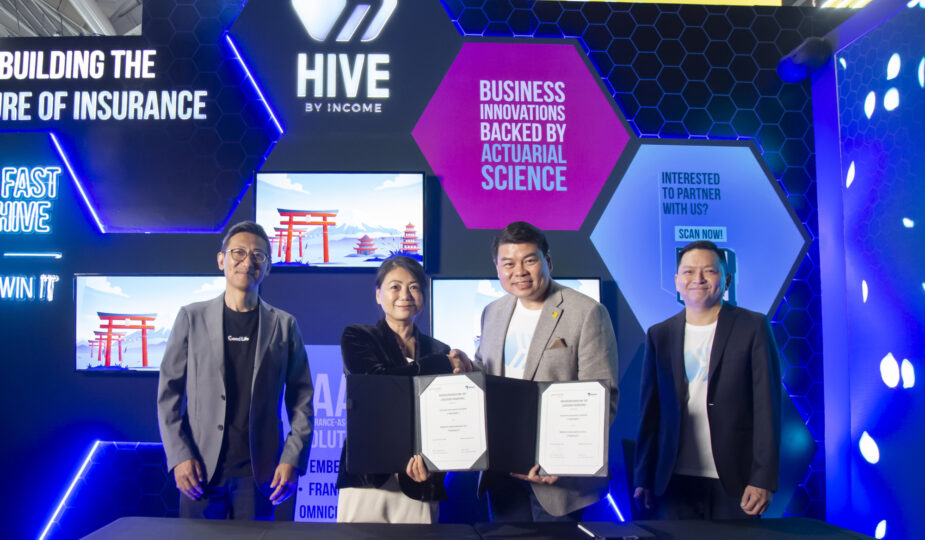 Income partners with ReMark to bring lifestyle-based microinsurance to Japan via the SNACK app which promotes flexible ways to engage with wellbeing and protection. At Singapore Fintech Festival, both parties announced the launch of a new microinsurance franchise model via its Insurance-as-a-Service (IaaS) platform, HIVE by Income as Income expands beyond Southeast Asia, to Japan.

Launching SNACK in Japan in 2023
ReMark is the first international partner to adopt Income's microinsurance franchise model. Through the partnership, ReMark is targeting to offer lifestyle-based microinsurance, SNACK, to Japanese consumers in 2023.
Although the first of its kind in Japan, SNACK is a digital insurance innovation that is already enjoying a good level of success since its launch in Singapore two years ago. SNACK lowers the barriers to entry to insurance and investment solutions by letting users stack microinsurance and investments. This is achieved through paying micro-premiums from as low as S$0.30 while users go about their daily lifestyle activities such as dining out, taking a train ride or clocking in 5,000 steps.
A product offering tailored to the Japanese market
The partnership with ReMark in Japan is a strategic move with vast market potential given the similarities in the insurance landscape and consumer behaviours in both Singapore and Japan as developed markets with high mobile penetration rates. ReMark will be able to offer SNACK to digitally savvy Japanese consumers, who are looking for more flexible ways to engage with insurance, integrated into their lifestyle.
Leveraging on the microinsurance model
By leveraging the microinsurance model, ReMark will enjoy speed to market when launching SNACK in Japan as it will benefit from seamless technology integration to ReMark's core system via Income's IaaS platform, HIVE. This will include the development of the SNACK app in Japan, an adapted suite of features, and SNACK branding rights in the country.
Income, on the other hand, will be able to tap on ReMark's experience and knowledge of the Japanese market to continue expanding and growing the HIVE by Income IaaS platform, to inspire new product innovations and better adapt to the needs of the various markets in the region.
Andrew Yeo, CEO, Income said: "We partnered ReMark last year when we launched SNACKFIT, a first-of-its-kind fitness and lifestyle proposition that offers users in Singapore bonus insurance coverage based on biological age and we are heartened that we are now able to grow this partnership beyond Singapore to Japan. Through this new business model, we will be able to extend our insurance capabilities in Japan, aligned with our shared mission of providing customer-centric solutions to empower better financial well-being."
"Singapore continues to be our innovation hub and with the rich insights and learnings we have accumulated around the region, we are evolving HIVE by Income to become a one-stop full stack microservices IaaS platform, offering a range of versatile digital-first insurance business models and pre-built Insurtech capabilities that will bring speed-to-market to our partners providing insurance capabilities to serve consumers in Asia. The diversity of our partners in the region thus far is a testament to the value and competitive edge of our IaaS model and more significantly, signals that Income is well placed to work with any partner in Asia Pacific."

Na Jia, CEO, ReMark said: "Income and ReMark share the same goal: creating the best insurance experience for consumers. I am thus very excited to partner Income – a strong insurance player committed to innovation for impact. I look forward to seeing new synergies in action between our teams and focus on bringing protection to younger consumers who live, work, and plan their finances differently. I am confident that our people-centric products, great insurance expertise and common vision will make a difference not only in Japan but also worldwide."
Gang Pei, Head of North Asia for ReMark, said: "ReMark has been known for providing marketing solutions in Japan for the last 20 years. Providing the best customer experience is always core to our mission when designing solutions and marketing programmes. Although Japan has high insurance penetration, our recent Global Consumer Study* (GCS) highlighted that the current offering and distribution channels are not fit for younger generations (especially Gen Z and Millennials). Partnering Income will enable us to provide lifestyle-based insurance suited to gig economy workers and younger generations who demand more affordable and flexible insurance products. Our new digital micro-insurance products will help people be more financially independent and create more resilient societies."
About Income

Income Insurance Limited (Income) is one of the leading composite insurers in Singapore, offering life, health, and general insurance. Established in Singapore in 1970 to plug a social need for insurance, Income continues to serve the protection, savings and investment needs of individuals, families, and businesses today. Its lifestyle-centric and data-driven approach to insurance and financial planning puts Income at the forefront of innovative solutions that empowers better financial well-being for all.
HIVE By Income is expanding Income's footprint in regional markets via two business models - enabling embedded insurance propositions within digital ecosystems and franchise offerings to extend lifestyle-based microinsurance insurance propositions and capabilities overseas. Since its first foray overseas in October 2021, HIVE by Income has since worked with partners in Vietnam, Malaysia, Indonesia and most recently Thailand. HIVE by Income launched a pay-per-job microinsurance for domestic helpers in Vietnam as well as a microinsurance offering with every purchase of a cup of coffee in Thailand. Japan marks the fifth market Income is expanding into and its first in Asia Pacific.