Income and ReMark take digital insurance innovation to Japan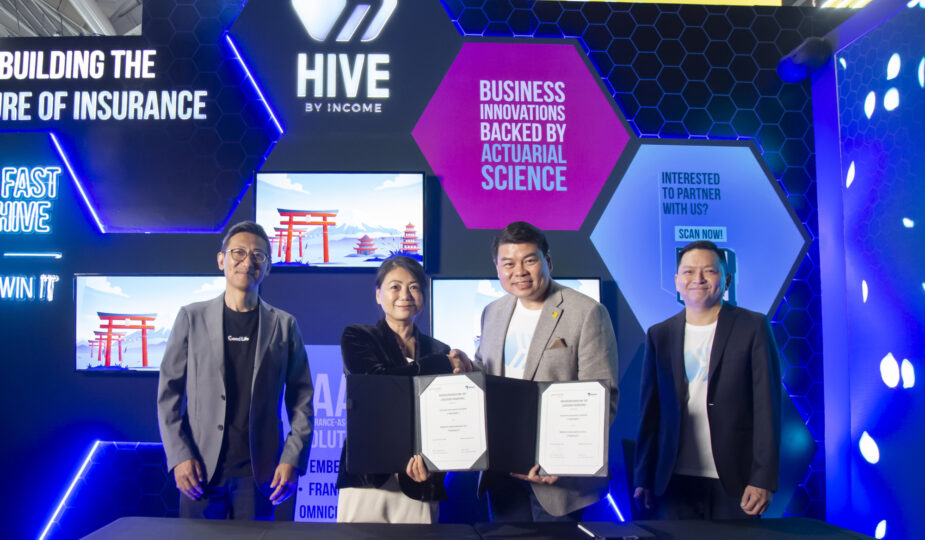 Income partners with ReMark to bring lifestyle-based microinsurance to Japan via the SNACK app. At Singapore Fintech Festival, both parties announced the launch of the new franchise model via the Insurance-as-a-Service (IaaS) platform, HIVE by Income, as Income expands beyond Southeast Asia, to Japan.

Launching SNACK in Japan in 2023
ReMark is the first international partner to adopt Income's microinsurance franchise model. Through the partnership, ReMark is targeting to offer lifestyle-based microinsurance, SNACK, to Japanese consumers in 2023.
Although the first of its kind in Japan, SNACK is a digital insurance innovation that is already enjoying a good level of success since its launch in Singapore two years ago. SNACK lowers the barriers to entry to insurance and investment solutions by letting users stack microinsurance and investments. This is achieved through paying micro-premiums from as low as S$0.30 while users go about their daily lifestyle activities such as dining out, taking a train ride or clocking in 5,000 steps.
A product offering tailored to the Japanese market
The partnership with ReMark in Japan is a strategic move with vast market potential given the similarities in the insurance landscape and consumer behaviours in both Singapore and Japan as developed markets with high mobile penetration rates. ReMark will be able to offer SNACK to digitally-savvy Japanese consumers, who are looking for more flexible ways to engage with insurance that is integrated into their lifestyle.
Leveraging on the microinsurance model
ReMark will enjoy speed to market when launching SNACK in Japan as it will benefit from seamless technology integration to ReMark's core system via Income's IaaS platform, HIVE. This will include the development of the SNACK app in Japan, an adapted suite of features, and SNACK branding rights in the country.
Income, on the other hand, will be able to tap on ReMark's experience and knowledge of the Japanese market to continue expanding and growing the HIVE by Income IaaS platform, to inspire new product innovations and better adapt to the needs of the various markets in the region.
Andrew Yeo, CEO, Income said, "We partnered ReMark last year to launch SNACKFIT, a first-of-its-kind fitness and lifestyle proposition that offers users in Singapore bonus insurance coverage based on biological age and we are heartened to grow this partnership now to Japan. We are glad to have found, in ReMark, a like-minded partner that appreciates the competitive edge that SNACK, through our IaaS platform, HIVE, brings to Japan. More significantly, by extending HIVE's insurance capabilities to Japan, our companies are aligning our shared mission of providing customer-centric solutions to empower better financial well-being to more people."

Tirer parti du modèle de micro-assurance
En s'appuyant sur le modèle de micro-assurance, ReMark bénéficiera d'une mise sur le marché rapide lors du lancement de SNACK au Japon, car il bénéficiera d'une intégration technologique transparente au système central de ReMark via la plateforme IaaS d'Income, HIVE.

De son côté, Income pourra s'appuyer sur l'expérience et la connaissance du marché japonais de ReMark pour continuer à développer et à faire évoluer la plateforme IaaS HIVE by Income, pour inspirer de nouvelles innovations de produits et mieux s'adapter aux besoins des différents marchés de la région.
"ReMark est connu pour fournir des solutions marketing au Japon depuis une vingtaine d'années. Offrir la meilleure expérience client est toujours au cœur de notre mission lors de la conception de solutions et de programmes marketing. Bien que le Japon ait un taux de pénétration en assurance élevé, notre récente étude mondiale sur les consommateurs* (GCS) a souligné que l'offre et les canaux de distribution actuels ne sont pas adaptés aux jeunes générations (en particulier la génération Z et les Millennials). Le partenariat avec Income nous permettra de proposer une assurance basée sur le style de vie des jeunes consommateurs, et aussi adaptée aux travailleurs de la gig economy et aux jeunes générations qui demandent des produits d'assurance plus abordables et plus flexibles. Nos nouveaux produits de micro-assurance numérique aideront les gens à être plus indépendants financièrement et à créer des sociétés plus résilientes ", a déclaré Gang Pei, responsable de l'Asie du Nord chez ReMark.

About Income
Income Insurance Limited (Income) is one of the leading composite insurers in Singapore, offering life, health, and general insurance. Established in Singapore in 1970 to plug a social need for insurance, Income continues to serve the protection, savings and investment needs of individuals, families, and businesses today. Its lifestyle-centric and data-driven approach to insurance and financial planning puts Income at the forefront of innovative solutions that empower better financial well-being for all.
HIVE By Income is expanding Income's footprint in regional markets via two business models - enabling embedded insurance propositions within digital ecosystems and franchise offerings to extend lifestyle-based microinsurance insurance propositions and capabilities overseas. Since its first foray overseas in October 2021, HIVE by Income has worked with partners in Vietnam, Malaysia, Indonesia and most recently Thailand. HIVE by Income launched a pay-per-job microinsurance for domestic helpers in Vietnam as well as a microinsurance offering with every purchase of a cup of coffee in Thailand. Japan marks the fifth market Income is expanding into and its first in Asia Pacific.